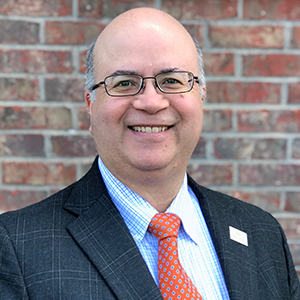 Dr. Octavio N. Martinez, Jr., the multi-degreed executive director of the Hogg Foundation for Mental Health, just got hauled back to high school.
But he wasn't called to the principal's office.
On April 21, 2017, Martinez, also an associate vice president for diversity and community engagement at The University of Texas at Austin, was inducted into the Stephen F. Austin High School Hall of Honor.
Hall of Honor members at Stephen F. Austin High School, on the north bank of Austin's Lady Bird Lake, are nominated by former classmates and colleagues. But the student-led Hall of Honor Steering Committee has the final say in parceling out honors. The selection process culminates in Dedication Day, a formal induction ceremony during which former and current students convene to commemorate past and future success.
The Hall of Honor is represented by a physical installation located next to the Jacquelyn McGee Performing Arts Center. There, a plaque with a photoengraving of Dr. Martinez will join the likes of musician and Grammy winner Gary Clark, Jr. and renowned eco-designer Robin Wilson.
Debra Windham, a teacher at Austin High who helps students coordinate Dedication Day affairs, said: "As a faculty member, I know how big a deal it is to become part of the history of this school. To be on the wall of that hall is really something."
A Love of Learning
Dr. Martinez's success at Austin High preceded years of additional schooling. After receiving his bachelor's and master's in finance at The University of Texas at Austin by 1987, he stayed in the city to work as a commercial real estate banker. He later entered medical school at Baylor College of Medicine in 1992, earning his M.D. in 1997. He then went on to complete a master's in public health at Harvard in 2001.
Friends say he's due to complete degrees in law and divinity as time permits.
Gardner Selby, a fellow Austin High alum who has known Dr. Martinez for nearly 40 years, said that his love of learning predated his college years. "Teachers saw that he was an intellect," Gardner said. "Some people just want to learn more about everything, and he was that kind of person very early."
According to Gardner, Dr. Martinez knew that a school as reputable as Austin High would give him more opportunities to satisfy his curiosity. He defied school boundary lines to enroll, making the daily crosstown trek to class for four years.
During that time, Dr. Martinez's interest in medicine also became evident. "I think it was in high school that I started calling him Doc Oc," said Lorena Sprager, another alum whose friendship with Dr. Martinez spans decades. "At that point he was talking about medical school, and we had no doubts that was the route he would take — just because he was so smart, capable and motivated."
Both Gardner and Lorena agreed, however, that the doctor has never been one to flaunt his intelligence or his achievements.
"One thing I really appreciate to this day about Octavio is how down-to-earth and approachable he is," Lorena said. "If you met him and didn't know about his many impressive accomplishments, you would never guess."
What does come through, according to former classmate Joe Babb, is Dr. Martinez's warmth and sense of humor. "He was never a negative person — always very positive," he said. "He had a quick wit, and was just fun to be around."
Out of High School and into the Hall of Honor
Even after obtaining his last degree, Dr. Martinez didn't stray far from the field of education. He served as a psychiatrist and assistant professor at The University of Texas at San Antonio before cinching clinical psychiatrist and associate professor positions at the Brody School of Medicine in North Carolina.
It wouldn't be until 2008 that Dr. Martinez joined the Hogg Foundation, but his arrival was well worth the wait. His combined experience as an educator and practitioner surpasses the threshold for versatility demanded by the foundation's cross-sector activities and diverse stakeholders.
The strength of Dr. Martinez's leadership hasn't gone unnoticed. "He's been an advocate for equity in behavioral health in communities of color," Lorena said. "And his contributions have had a direct impact in Austin, across Texas, and also nationally."
The stories go on. Dr. Martinez's induction into Austin High's Hall of Honor testifies to the strength of his character and the impressive arc of a career that's still unfolding.