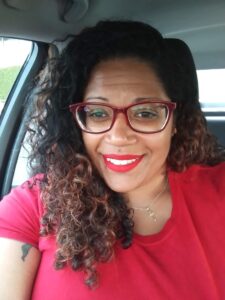 The Hogg Foundation for Mental Health has chosen Crystal Rhodes, a student pursuing a Master of Science in Mental Health Counseling, as one of two 2023 recipients of the Stephany June Bryan: Bold Spirit of Achievement Scholarship Award. As she continues her studies, the award will enable Rhodes to pay off her graduate school balance and work toward licensure as a Licensed Professional Counselor.
The scholarships were created in honor of Stephany J. Bryan (1956-2021), the late Hogg Foundation senior program officer and consumer and family liaison. They provide financial support to persons with a mental health challenge and/or caring for a person with a mental health challenge currently pursuing advanced education or training. This year's awards were announced at the Central Texas African American Family Support Conference. The $5,000 award is unrestricted. Special consideration is given to persons of color and those residing in Central Texas.
Tell us about yourself. What motivated you to pursue a Master of Science in Mental Health Counseling?
I am very passionate about helping people recover from drug and alcohol dependency and mental health issues. After losing my favorite uncle in the world to a drug overdose, I became a Licensed Chemical Dependency Counselor (LCDC). As an LCDC I realized that most people who struggle with drug and alcohol issues are also trying to cope with mental health issues. I also saw that there are very few safe outlets or treatment facilities for Black people and people of color to receive help. I decided to pursue my Master of Science in Mental Health Counseling with the goal of starting a private counseling practice that will cater to people of color struggling with co-occurring disorders and trauma. I want to give Black and brown people the ability to ask for help without fear of judgement or ridicule.
What kind of services will the Master of Science in Mental Health Counseling prepare you to provide?
Helping people is my passion. I want to give people of color an opportunity to heal from their mental health and/or substance use issues. By providing individual counseling, group counseling, and family therapy, I believe I can assist people who look like me get the help they need to live an overall healthy and positive life.\
How do you think your lived experience as a person of color with mental health challenges will add value to your future work as a mental health counselor?
I've been there! I was diagnosed with PTSD, anxiety, and depression about 10 years ago. Before my diagnosis, I didn't understand why I felt terrible all the time, I just knew I did. I survived in darkness, and I thought that that was how life was supposed to be. One day, I made a plan to kill myself. Thankfully, God intervened, and I have been living life instead of surviving in darkness ever since. It isn't easy. As a matter of fact, some days it's still hard to get out of bed. But I walk with purpose now and know that God has given me a dozen chances to get life right. He has never left me. I want to help people see that He is with them and that they can overcome all obstacles with faith, love for self, and strength.