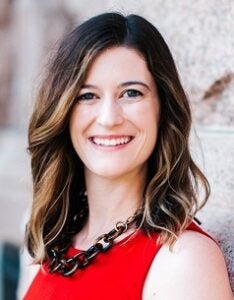 The Hogg Foundation for Mental Health is pleased to announce Alison Mohr Boleware as its new Director of Policy. A sixth generation Texan, licensed social worker, and graduate of the University of Texas at Austin School of Social Work, Boleware joins the foundation after working as the Government Relations Director at the National Association of Social Workers, Texas Chapter (NASW-TX).  
In her role at NASW-TX, she fought tirelessly for social workers and social justice at the Texas Capitol, advancing a legislative agenda representing the spectrum of social work including policy issues related to social work licensure, the mental health system, Medicaid, immigration, LGBTQ+ rights, and more. 
Prior to NASW-TX, Alison worked as a Health Policy Analyst in the Governmental Affairs Department of the Texas Medical Association. She started her career as a Policy Fellow for the Hogg Foundation for Mental Health, participating in the Hogg Mental Health Policy Academy. During the 84th legislative session Alison served as a Legislative Aide to former State Representative Elliott Naishtat, also a social worker, and staffed the House Human Services Committee.  
"I am honored for the opportunity to serve as the Director of Policy at the Hogg Foundation for Mental Health!  It's truly 'returning to my roots' since I started my career as a Policy Fellow at the Foundation and have been working in and around the Capitol for several years," said Alison. "I can't wait to work with this amazing team to continue improving the mental health and well-being for ALL Texans, a goal very near and dear to my heart as a social worker and lifelong Texan." 
Alison will be filling the position formerly held by longtime Hogg Foundation team member, Colleen Horton, who retired as Director of Policy this past February.  
"During her tenure with us, Colleen made an incredibly meaningful contribution toward making mental health and well-being a state policy priority, and we are truly sad to see her go," said Dr. Octavio N. Martinez, Jr., executive director of the Hogg Foundation and senior associate vice president for diversity and community engagement at The University of Texas at Austin. "At the same time, we are excited to welcome Alison and look forward to her positively impacting mental health and substance use policy on behalf of all Texans."