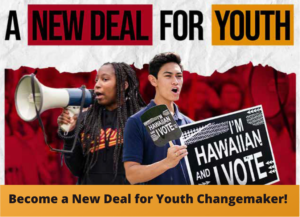 Drawing from insights shared at this year's Young Minds Matter conference, this episode of Into the Fold calls attention to the connection between healing and justice as it relates to youth mental health and well-being. Focusing on the power and agency of young people, as opposed to their vulnerability, we speak with  Dr. Nia West-Bey, Senior Policy Analyst at The Center for Law and Social Policy (CLASP)'s Youth Team about her experience with national policy and with Marissa Howdershelt, Whitney Lee and Darlicia Dublin, three representatives of the Washington D.C. based youth advocacy group, the New Deal for Youth Changemakers.
---
The following transcript is condensed and edited for clarity.
Into the Fold: What does that phrase, "a new deal for youth" bring to mind for each of you?
Marissa Howdershelt: I feel like it's a space to have a social, cultural and emotional rebrand in our society, using our collective consciousness to create something new that's never been seen before in policy.
Whitney Lee: For me, it also addresses the misperception that young people today are better off than in previous generations, because we have more "stuff" materially. That's not an indicator of things like nutrition security, health security or housing stability. Millennials and Generation Z are actually facing rising housing costs and rising education costs alongside stagnant wages. Also, suicide is the second leading cause of death amongst youth.
And so, for me, the New Deal for Youth is created to make systemic changes to improve the lives of current and future generations.
Darlicia Dublin: For me, it's basically asking youth what our opinion is, giving our ideas and sharing our experiences.
Dr. Nia West-Bey: Also, we're harkening back to the scope and size of the original New Deal program. It was a massive investment and really transformative, but it also intentionally excluded a bunch of marginalized communities. We're bringing it forward to talk about young people and their issues.
It's time for us to get our New Deal and to really see the change that this generation deserves.
ITF: What makes the New Deal Changemakers special regarding the actual decision-making power that youth have?
MH: Since the beginning, we've focused on youth-centered policy, a youth-centered framework and involving youth directly. That makes us special and unique. Youth have a lot of ideas; we have a lot of passion and drive.  And I think this space has been special because we've provided space for young folks to share their stories and their narratives.
NWB: I was shocked when I got into national policy work at how little the people who are actually impacted by the policies we were talking about were in the room or consulted or part of the process. And I think the reason we've had so many ineffective policies or policies with unintended consequences is that decisions are being made by people who have no real experience with the issues they're making decisions about.
And so, I've really appreciated the opportunity to bring young people into national policy spaces so that they have an influence and a voice in the decision-making process. I think the only way we're going to get truly transformational is by centering and leading with the folks who are living the experiences that policies address.
ITF: How do you think we can also give young people the language to understand their experiences through the lens of historical and cultural trauma, and how can we use past lessons to help interrupt historical and cultural trauma for future generations?
NWB: One powerful idea is that we can't move forward if we don't look back; we can't progress if we haven't dealt with what has come before us. Being truthful about the past lets us move forward together effectively to a different future.
When you don't provide young people that context and that historical understanding and they see bad things happening in their life or in their community they're just left to think, "Oh well, this must be my fault.  There must be something wrong with us. I guess I don't deserve better." It does all sorts of negative things to young people's mental health and self-image.
We need to acknowledge that there are very real things in this nation's past that continue to have an impact on how people are feeling, living, breathing and experiencing the world today.
ITF: What are some "real world" examples of policymaking that are actually informed by this deep historical understanding that you speak of?
NWB: One example is taking place at the local level, in the context of some of what's been happening over the last year. Because of the leadership and advocacy of young people and adult allies, many communities no longer have a police presence in schools.
It's an example of policy action that understands the troubled history that communities of color and other marginalized folks have had with police. It recognizes that putting police in an environment that's supposed to be about development, growth and learning is counterproductive in light of that troubled history. It's policy action that makes sense when looked at through the lens of historical and cultural trauma.
With A New Deal for Youth, our whole platform focuses on trauma-informed policymaking, and we're hopeful that if our vision is enacted into law and policy, it will be a strong example of transformative policymaking.
ITF: Policy encompasses more than just the federal, or even the state level. There are lots of very exciting experiments in policymaking that start at the local level. And when the Hogg Foundation talks about wanting to change policymaking, we really do mean at all levels, so I appreciate your focus on that, Nia.
Our listeners would also love to know more about each of you, Marissa, Whitney and Darlicia — where you all come from and how you came to be involved with Changemakers.
MH: I'm from southern California and recently graduated from the University of California at Riverside. My advocacy journey started in college through student government and then transformed to mental health policy because of my own struggles with Bipolar-II disorder. I was with the Collegiate Mental Health Innovation Council at Mental Health America and then from there, I got connected with CLASP. Now I'm a Changemaker.
Now that I'm saying all of this, it's a lot, but I think I haven't really seen it because it's just me talking about my life and the things that I've had to navigate and struggle with as a first-generation college student and as a child of a first- generation mother. So, my policy is informed by my lived experience.
WL: I'm from Utah, historically Shoshone and Paiute land. I've been interested in mental health since my diagnosis of autism at age 12. During college I developed a lot of chronic health problems and had to drop out and it took a huge toll on my mental health. I also survived a suicide attempt because of the shame and stigma of being on government welfare.
Afterwards, I decided to commit myself to mental health advocacy and disability rights. I got connected to the Youth of Utah Advocacy Coalition which was working with the department Utah's Department of Substance Abuse and Mental Health. CLASP was offering technical policy assistance and through that connection I became aware of the New Deal for Youth Changemakers. I really love what CLASP did in my state and wanted to take the opportunity to be a Changemaker and to improve mental health policies nationwide.
Darlicia Dublin: I'm from Washington D.C. where I'm on a Youth Action Board for Prince George County and work with youth experiencing homelessness. That's where I learned about becoming a New Deal for Youth Changemakers I always wanted to do advocacy work, but I was always nervous to speak up. I joined New Deal for Youth to challenge myself to speak up more. I don't want to be afraid– my voice is just as good as everybody else's.
ITF: I would also love to know more about the lived experience of mental health that each of you have had.
WL: I come from a family that has mental illness and neurodivergence and I started dealing with suicidal ideation and OCD since I was 10 years old. I kept silent about it until I was in my 20s because I grew up in a very religious family and thought I was evil. I also dealt with a lot of emotional abuse. I learned I was autistic at age 12 and realized my anxiety and depression is also due to the able-ism and lack of acceptance that autistic people face.
I wanted to start advocating and talking about things that people don't talk about because I grew up around a frame of mental illness where it was taboo. My grandparents were institutionalized, and my dad's family faced a lot of stigma for it.
I'm not going to let society tape my mouth shut about this. It's an innate part of my life. I didn't feel like it was right to keep my mouth shut for the comfort of others, so I chose to pursue disability rights and mental health advocacy full time.
MH: I feel like advocacy is my life.
I struggled with suicidal ideation since the age of 13 and grew up in a household where mental health was never talked about. My diagnosis with Bipolar-II disorder at the age of 21 was a result of advocating for myself. I'm also coming to realize that I'm neurodivergent and likely have autism. All of my advocacy comes from my own lived experience, navigating and questioning things about myself and educating myself.
Childhood experiences also contributed to my mental health today. I don't want to see the next generation of children go through the things I went through, because most of the time, I went through them by myself. I bottled up my feelings and while that taught me how to self-sooth and self-regulate, I had to be my own therapist. I don't want to see that for the next generation of children.
DD: Mental health was overlooked in my household too. The attitude was "Just get over it. You'll be okay." I have really bad anxiety and at first, I was scared to look into it. As I got older, I wanted to know more.
Also, one of my parents had schizophrenia so I wanted to learn more about that, because it's hereditary. I want to know if I will have it, if my child will have it, how will I deal with it. I don't want to look past it.
Mental health is being talked about more than ever instead of being swept under the rug. I feel like mental health is finally getting a light shined on it like it should have had years ago.
ITF: What are each of your goals for your involvement with Changemakers specifically, and how will you evaluate your success or impact?
MH: My goal for this year with Changemakers is to continue with the same energy we've had during our first year.
I'd also like to have more of a mentorship role with younger folks. That's something I really enjoy doing now and I hope to empower the voices of very young children. I knew a lot more than I thought I did at a young age, and that's why I believe what children say. I don't second-guess them.
WL: I'd like to continue expanding our mental health policy work and reaching out to policy makers– to take the vision we have and forge it into policies at the local level and especially at the federal level.
I'd like to see policy changes, but if not, then I'd like to at least see some changes in policy makers' attitudes about mental health.
DD: My goal is to share my ideas more with the Changemakers group because sometimes I have just sat back and listened, instead of sharing.
ITF: I'm sure that our listeners would also love to know more about any exciting future plans or new projects that you might have on the horizon.
MH: My next step is to rest; rest is a radical form of resistance!
One of my new favorite words is "trauma hustler." I think a lot of us bipolar folks can identify with that word. We don't even realize how much we're doing until we have to stop. I hope more folks get the opportunity to rest and breathe.
DD: I'm trying to persuade my friends to get involved in youth advocacy. They didn't vote, but they're the ones complaining about what's going on, so I'm hoping to persuade them to do more.
I'd also like to join more support groups for young parents because it's hard– especially being like a single parent. Being in a support group helps me know I'm not alone.
NWB: We have a bunch of things planned for A New Deal for Youth as we go into 2022. The first thing I ask is that your listeners follow us on social media at New Deal for Youth. We're on Facebook, Twitter, Instagram and TikTok, so make sure you follow us to stay updated.
Also, in terms of heading into a congressional election next year, we're thinking about opportunities that we might have to influence that process. There might be a march, or a nationwide mural project or all kinds of things happening in briefings for Congress people.
Follow us on social media or subscribe on our website to join the movement and stay in the loop on everything that's coming up and that you could be part of!
ITF: They are the New Deal for Youth Changemakers; Whitney, Marissa and Darlicia, along with Dr. Nia West Bay. We appreciate you all taking the time to visit with us for a second time.
And for anyone who missed their panel at the Young Minds Matter conference, that content is now available on the Hogg Foundation's YouTube page. Please check that out and thank you so much for joining us.
Related content: