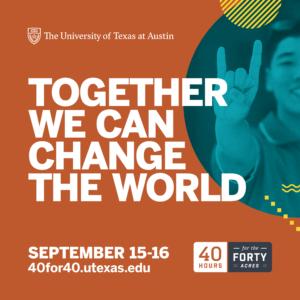 Now in its seventh year, 40 Hours for the Forty Acres is an annual university-wide fundraising event that encourages everyone in the UT Austin community to give to the UT people, places and programs that are meaningful to them. For 40 hours, students, alumni, parents, faculty, staff and friends come together as a community and show their support.
Why give to the Hogg Foundation?
COVID-19 is having a profoundly disruptive impact on families and communities in Texas, and our grantees are no exception. These organizations are staffed by people who are on the front lines of transforming mental health in Texas, and they need your assistance. With your help, organizations that have been forced to pivot to COVID-19 response will be able to continue their mission-critical mental health work.
The community conditions that impact mental health and well-being are daunting, but we have the power to change them. And in light of COVID-19, we MUST change them. YOU have the power to make change. Your contribution will go toward:
Direct relief of family needs like rent, food, and medication assistance
Psychiatric first aid for frontline workers
Mitigation of COVID-19's impact on policy advocacy and census outreach efforts
Cushioning organizations against the economic pain caused by the ongoing lockdown
All with the goal of strengthening mental health for all the people of Texas.
Your Impact
Factoring in the effects of social isolation, job and income loss, and the trauma of the disease itself, the mental health toll of COVID-19 is likely to be huge and long-lasting. We're proud to work alongside incredible organizations and individuals working to improve the mental health and well-being of Texans and transform the places where people live, learn, work, play and pray. Your gift will help ensure that this ongoing crisis will not jeopardize that work, but that it will keep going strong for the people of Texas.