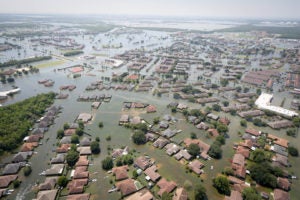 The Hogg Foundation has awarded $300,000 to three organizations to support the mental health and well-being of people and communities impacted by Hurricane Harvey. Specifically, funds will be used for services and supports with an emphasis on people with mental health conditions or comorbid physical health conditions.
Grantees are expected to work closely with city, county and state agencies as well as community-based organizations to align resources to address mental health and physical health needs.
These funds are consistent with our new strategic direction as we work to ensure that communities across Texas have the resources and support they need to be resilient.
Here's a look at how the grantees plan to use the funds:
Spindletop Center–the local mental health authority for Chambers, Hardin, Jefferson, and Orange counties of Southeast Texas–will enhance outreach and support activities that address the signs and symptoms of disaster-related trauma, particularly for youth and people who are homeless. They will also expand the availability of peer-run groups in highly impacted communities to provide ongoing emotional recovery support.
Community Health Centers of South Central Texas–the federally qualified health center for Bastrop, Caldwell, Gonzales, Guadalupe, Lavaca and Victoria counties–will work collaboratively with other organizations to increase the number and availability of counseling staff at schools and clinics; provide case managers to work with FEMA to link people to medical, dental and behavioral health services, as well as other community services; and offer mental health case management services during extended hours to conduct outreach, engagement and wellness checks in homes and at strategic community locations.
Bluebonnet Trails Community Services–the local mental health authority for Guadalupe, Gonzales, Fayette, Bastrop, Lee and Caldwell counties–will provide a team of counselors to work with students in La Grange, Flatonia and Schulenburg schools. They will also provide counseling services through the local federally qualified health care center, St. Mark's Hospital and local churches. In addition, funds will support temporary housing assistance, translation services, childcare and medications for those most affected by Harvey.