A Message from Our Executive Director 



Dr. Octavio N. Martinez, Jr.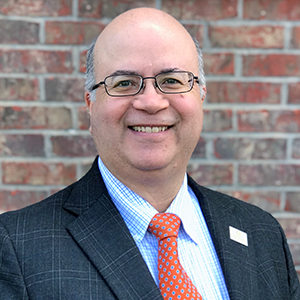 We are now two years into the COVID-pandemic. Our work over the past year has been strongly devoted to charting emerging trends as we look ahead to a world permanently changed by the pandemic.
This is especially true for our children and youth. A recent advisory by the U.S. Surgeon General found that youth mental health has suffered across a range of indicators during the pandemic, including rates of depression, anxiety, and suicide attempts. This gives added urgency to the work of grant partners such as Children's Grief Center of El Paso; or the grant partners that make up our Communities for Children initiative; or the energy of the extraordinary young people we met during the last Young Minds Matter conference. Children's mental health isn't a new concern for us, but the pandemic leaves in its wake a changed environment that we aim to be responsive to.
The Surgeon General's report is a sign that the struggle for good mental health is being sorely tested by the pandemic. Our mission to understand the underlying conditions that shape mental health at the community level, and to leverage our influence to transform these conditions for the better, has never been more critical. Given this new urgency, it is even more inspiring that our grant partners and staff have stepped up as never before.
This Engagement Report is a high-level snapshot of our many successes from Fiscal Year 2020-2021. As such, it can only serve as a high-level summary of our accomplishments over the past year. As you read through this report, I want you to remember what our communities and grant partners have had to overcome, and the steadfast people behind the scenes who make it all happen.
Farewell to a Friend



Stephany J. Bryan (1956-2021)
Stephany J. Bryan (October 31, 1956 – February 14, 2021) dedicated her life to supporting and strengthening the lives of individuals with lived mental health experience, their families and communities through advocacy, education, peer support, and collaboration. During her 13-year tenure as Senior Program Officer and Consumer & Family Liaison at the Hogg Foundation, Stephany touched the lives of colleagues and consumers, both personally and professionally, across many areas of mental health and recovery. 
Her Impact
Learn how Stephany Bryan impacted the lives of colleagues at the Hogg Foundation for Mental Health and consumers across many areas of mental health and recovery.
Scholarship
These scholarships provide financial support to persons of color with a mental health challenge currently pursuing advanced education or training.
Podcast: Remembering Stephany
On this episode of our Into the Fold podcast, we celebrate our friend, her life, and legacy of this rare and unique voice for mental health.
Language Matters in Mental Health



The power of the language we choose
Language matters in mental health. Words we use shape how we see the world–and ourselves. We have a choice in the words we use to describe ourselves, others, and the world around us.
The Hogg Foundation for Mental Health recommends we start by talking with others about the words they prefer. Affirming the preferences of the person you are referring to is always going to be the best way to go.
This one-pager contains practical advice for a challenging topic.
Language Matters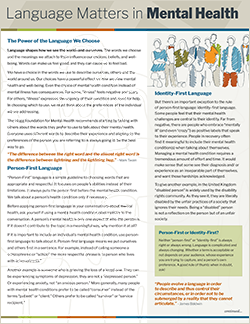 Communities for Children



Supporting Schools During COVID
In December 2020, the Hogg Foundation received $1.1 million through the Chan Zuckerberg Initiative (CZI). The goal of the initiative is to help advance racial equity and support student mental wellness in communities significantly impacted by COVID-19. Using the CZI funds, the Hogg Foundation designed the Communities for Children initiative.
The COVID-19 pandemic, civil unrest, and the economic recession have hit communities of color the hardest. This has presented new and unexpected challenges for schools, and these challenges are likely to continue and evolve throughout the current school year and beyond. Communities for Children supports schools and organizations working against the tide of poor mental health resulting from systemic inequities and the pandemic."
Milestones
As we look back at the recent history of the foundation, we shouldn't overlook our established programs and activities. Some of these reached important milestones over the past year, which are worth celebrating.
COVID-19 Health Equity Task Force
In early 2021, Hogg Foundation executive director Dr. Octavio N. Martinez, Jr. was appointed to President Biden's new COVID-19 Health Equity Task Force.
Well-being in Rural Communities Completes Planning Phase
A cornerstone initiative, Collaborative Approaches to Well-being in Rural Communities, completed its three-year planning phase.
Integrating Mental Health Care in the Medical Setting
The Integrated Behavioral Health Scholars Program at Dell Medical School transforms the medical school experience.
Policy Engagement
The Hogg Foundation informs state-level policies that include funding and support for mental health promotion, prevention, and early intervention in a variety of settings and populations. Our goal is to effect systemic change to improve the mental health and well-being of people across Texas.
A Retrospective on a Decade of Investment
We look back at our decade of investment in the Mental Health Policy Academy and Policy Fellow Initiative.
Understanding Mental Health Systems and Services in Texas
The Hogg Foundation's one-of-a-kind guide to the Texas mental health system
Podcast: Lessons Learned on Public Policy
Learn how our Mental Health Policy Academy and Fellows initiative is transforming public policy in Texas.
Young 

Minds Matter
In October 2021, the Hogg Foundation held a free virtual event for people who care about children, youth, families, and caregivers. The theme for the event was, "Healing, Justice and Connection for Mental Wellbeing."
Young Minds Matter 2021 Sessions Resources
In case you missed Young Minds Matter 2021, recordings of all the sessions.
Young Minds Matter: The Healing Future
A guest blog post by Marissa Howdershelt, who presented at Young Minds Matter 2021.
Podcast: A New Deal for Youth
We explore the connection between healing and justice as it relates to youth mental health and well-being.
Joining the Conversation
The Hogg Foundation doesn't operate in a vacuum. Here is recent commentary on some of the most important issues of the day.
Vaccine Equity, Not Hesitancy
Although the term "vaccine hesitancy" has gained momentum in recent months, it fails to capture the systemic nature of the greater problem of vaccine access. We should rephrase it to "vaccine equity." 
Texas health organizations must promote vaccines
Every day, we see ordinary people innovate approaches to getting more shots into more arms. What does it say to them that there are health care workers who would sooner quit than get vaccinated?
Uproar over critical race theory should not threaten mental health in schools
Why is the controversy surrounding critical race theory leading some to cast suspicion on mental health programs in schools?
Year in Review



A Timeline of Highlights
Learn More
The Hogg Foundation isn't just a funder. We are tirelessly committed to influencing the broader conversation around mental health and well-being. Stay up-to-date with these resources.