"When we build let us build forever. Let it not be for the present delight or for the present use alone. Let it be such work that our descendants will thank us for." — Will Hogg
Mental health is not solely an individual responsibility, but is also a product of community conditions. Working collaboratively, we can change the patterns of mental illness across Texas, especially for marginalized populations.
Shared Inquiry
We invest in collaborative research and dialogue to better understand what influences resilience, mental health and well-being in everyday life.
Community Implementation
We support community efforts to build resilience and improve mental health in environments where people live, learn, work, pray and play.
Policy Engagement
We inform state-level policy that affects resilience and mental health, and strengthen community involvement in local and regional policy processes.
We use a variety of approaches to create change in mutually reinforcing ways.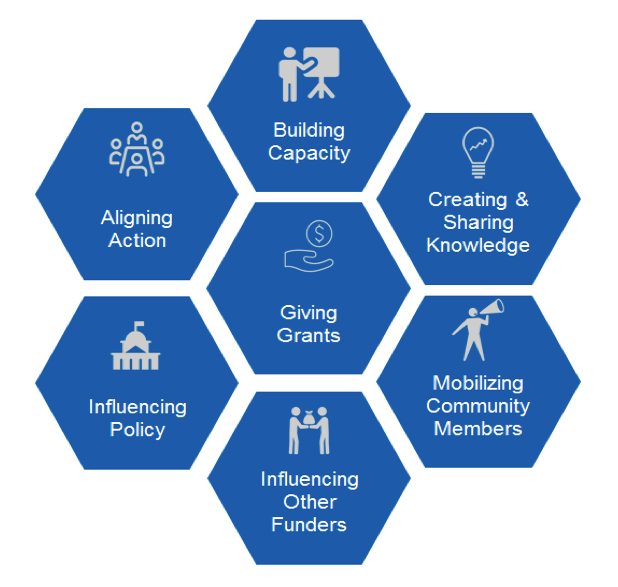 Building Capacity: We build capacity through planning, collaboration and evaluation grants, and by providing technical assistance.
Creating and Sharing Knowledge: We bring mental health topics to the forefront through research, convenings and communication campaigns.
Mobilizing Community Members: We engage community members, particularly consumers, to co-create solutions that best meet mental health needs.
Influencing Other Funders: We encourage other funders to invest in mental health, increasing the effectiveness and impact of philanthropic activity across Texas.
Informing Policy: We inform and advance mental health policy by advising and collaborating with consumers and family members, advocates, legislators and many other stakeholders.
Aligning Action: We convene people from across sectors to set common goals and metrics for success.
Giving Grants: We provide funding to plan and launch new programs, policy initiatives, research and evaluation efforts.
Policy Academy and Fellows
We invest in the capacity of individuals and organizations in Texas to engage effectively in mental health policy.
Transition Age Youth and Families
We fund initiatives that identify and address the mental health needs of transition-age youth (between the ages of 16 and 24) and their families.
Texas Recovery
We are committed to supporting mental health consumers, youth, and their families in their personal journeys toward recovery and wellness.
Workforce Development
We invest in efforts that address the widening gap between demand for and availability of highly trained, culturally diverse and consumer-oriented mental health workers in Texas.
Evaluation
We maximize our resources by learning from what works and what does not.
Integrated Health Care
We support creative solutions for the integration of physical and mental health care in a variety of settings.
Trauma-Informed Care
We raise awareness of the prevalence and influence of trauma in the lives of mental health consumers and how it affects behavior.
African American Faith-Based Outreach and Education
We aim to educate faith communities about mental health and to build on the unique strengths of churches and other faith-based organizations to provide behavioral resources for prevention, treatment and support.
Events and Learning Opportunities
Robert Lee Sutherland Seminars
Convenings to learn about and discuss critical issues in mental health
Children's Mental Health Conference
A free conference in Houston focused on children's mental health topics
Peerfest
For Texans who have faced mental health challenges, and those striving for and achieving recovery