Request for Proposals: Texas Communities Count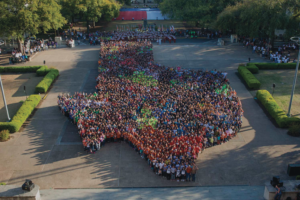 As part of the Hogg Foundation for Mental Health's 80th Anniversary initiative, the foundation will invest $2 million in complete count efforts in Texas for the 2020 U.S. Census. Our primary focus is to aid collaborative approaches that aim to reach traditionally hard-to-count (HTC) populations, communities and geographic areas throughout the state. The goal is to encourage participation in the 2020 Census so that every person in Texas is counted. 
Every 10 years since 1790, the U.S. Census Bureau conducts a constitutionally mandated count of every person living in the nation. An accurate and complete census is necessary to determine fair allocation of federal dollars for resources, services and infrastructure that support our everyday quality of life. The foundation seeks proposals that support (1) direct, local, on-the-ground complete count efforts or (2) statewide coordination of these local efforts. Strategies should focus on hard-to-count (HTC) populations, communities or geographic regions in Texas that are designated as health professional shortage areas (HPSA) and utilize collaborative approaches to increasing participation in the 2020 U.S. Census. 
Depending on the quality of the proposals received, the foundation plans to award 80 percent of funding to get-out-the-count (GOTC) efforts and 20 percent of funding to coordination. The foundation seeks to award multiple grants to local GOTC efforts, for which each proposal can range from $5,000 – $75,000. Additionally, the foundation seeks to award multiple regional and statewide grants, for which each proposal could range from $50,000 – $125,000. The number of grants awarded is contingent upon the quality of proposals received. 
Due to the effects of Tropical Storm Imelda, the foundation has decided to extend the deadline for proposals to
Wednesday, September 25, at 3:59 PM CDT.
This extension applies to all applicants, not just those in the affected counties
(Brazoria, Chambers, Galveston, Hardin, Harris, Jasper, Jefferson, Liberty, Matagorda, Montgomery, Newton, Orange, and San Jacinto). 
If you have any questions about this, please contact us at Hogg-Grants@austin.utexas.edu.
Learn more about the initiative by downloading the official request for proposals overview below.
The foundation hosted an optional informational teleconference for potential applicants on Wednesday, September 11, 2019.
Review the questions addressed during the teleconference below. 
INQUIRIES
Questions about the RFP may be emailed to hogg-grants@austin.utexas.edu.
The foundation will not accept phone calls regarding the RFP except for questions related to technical issues with the online submission process. For technical inquiries, call the foundation's grants management staff at (512) 471-5041.
FLUXX REGISTRATION
The Fluxx Grant Management System registration deadline is Wednesday, September 18, 2019. This is required for applicants without an existing account. If you are a new user, please register by clicking on the "Create an Account Now" button on
this page
.
If you have applied for a Hogg Foundation grant in the past, you do not need to create a new user account. Please log in with the credentials you were provided during your initial registration.