POLICY CONCERNS
Need for more recovery-oriented educational supports, such as school-wide positive behavioral interventions and support (SWPBIS) and classroom-based social and emotional learning (SEL)
Disproportionate amount of disciplinary measures for students receiving special education services and racial/ethnic minorities (in-school and out-of-school suspension, district alternative education programs (DAEPs), and juvenile justice alternative education programs (JJAEPs).
Disproportionate use of corporal punishment on students with disabilities or special needs.
Potential impact of budget reductions that could limit access to school counseling services.
Lack of transparency and comprehensive training of school district law enforcement (school resource officers), including a need for Children's Crisis Intervention Training (CCIT).
Lack of trauma-informed care training
FAST FACTS
A 2011-2012 report found that, compared to the national average of 12.9 percent of students identified as eligible for special education services, Texas only had 8.7 percent of students receiving special education services — the lowest percentage in the country.
The rate of special education enrollment in Texas remained steady at 8.7 percent for the 2015-2016 school year, with 463,185 of the total student population (5,299,728) enrolled in special education services.
Roughly 34.4 percent of students eligible for special education services in 2015-2016 had a primary diagnosis of a learning disability, 11.7 percent had a primary diagnosis of Autism, and 5.8 percent had a primary diagnosis of emotional disturbance.
In the 2014-2015 school year, 9.5 percent of students in Texas schools received special education services, but those students represented 18.3 percent of expulsions to Juvenile Justice Alternative Education Programs (JJAEPs), 17.1 percent of expulsions to Disciplinary Alternative Education Programs (DAEPs) and 14.9 percent of expulsions without placement.
Students receiving special education services were also overrepresented in receiving out-of-school suspensions (19.3 percent) and in-school suspensions (15.4 percent) in 2014-2015.
The majority of expulsions to DAEPs and JJAEPs continued to be discretionary in 2014-2015 (i.e. expulsions that were not mandated by state law but instead involve local codes of conduct).
The majority of students in Texas are Hispanic (52.0 percent) and many students in Texas — nearly one million — are still learning English.
Overview of Texas Education Agency and Local School Districts
The Texas Education Agency (TEA) provides oversight and administrative functions for all primary and secondary public schools for the 1,247 school districts and 616 open-enrollment charter school campuses in the state of Texas. According to TEA, 5,299,728 students were enrolled in Texas public schools in the 2015-2016 school year, including charter schools and early education providers. Over an eleven-year period, total enrollment in Texas schools increased by roughly 20.4 percent, or 899,084 students.
Undiagnosed or poorly managed mental health conditions can negatively impact a child's academic performance, classroom behavior, and school attendance. The most recently available data from the National Survey of Children's Health (2011- 2012) reveals that roughly 500,000 children in Texas have mental health needs but almost half (40.5 percent) of those children do not receive the behavioral and psychological services they need.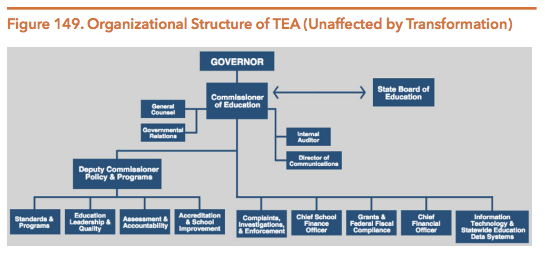 Source: Texas Education Agency. (January 2016). TEA Hierarchy Chart. 
In Texas, mental health supports and services may be provided in school settings by a number of trained professionals, including school counselors, nurses, school psychologists, and social workers. Despite their title, school counselors have many duties that are only tangentially related to mental health; according to Texas law, "the primary responsibility of a school counselor is to counsel students to fully develop each student's academic, career, personal, and social abilities." Although the American School Counselor Association (ASCA) recommends a ratio of 250 students per school counselor, the ratio in Texas is almost double that amount: there were 438 students per counselor for the 2014-2015 school year. It should be noted, however, that these ratios do not take into account non-counselor mental health workers who play a crucial role in treating mental health issues in schools, such as licensed clinical social workers, licensed school psychologists, occupational therapists, and other mental health professionals such as art and music therapists. Texas also has a special credential for Licensed Specialists in School Psychology (LSSPs), but only 1,582 LSSPs worked in Texas public schools in 2015.
Changing Environment
MENTAL HEALTH FIRST AID (MHFA) TRAINING IN TEXAS SCHOOLS
Mental Health First Aid (MHFA) is an evidence-based program that teaches individuals (such as teachers and other school employees and support staff) how to:
Recognize signs, symptoms, and risk factors of mental health and substance use issues
Identify professional and self-help resources to treat mental and behavioral health issues
Create a 5-step action plan to assess a situation and offer immediate assistance
Increase individuals' overall confidence and comfort in helping people who are experiencing distress related to a mental health condition or substance use.
Several bills passed during the 83rd Legislative Session that support early intervention programs like MHFA. SB 460 (83rd, Deuell/Coleman) required all certified public school teachers, counselors, principals, and other appropriate personnel to be trained in the early detection and identification of students who are at risk for suicide or experiencing other mental or behavioral health needs. Another bill, HB 3793 (83rd, Coleman/Hinojosa), created two grant programs making mental health first aid training available to interested individuals and educators throughout Texas. TEA authorized continuing education units for educators who complete the MHFA training. As of June 2014, 1,829 educators had been trained in MHFA.
In 2015, the 84th Legislature provided further support for MHFA training and the early identification of mental health needs by passing two bills: SB 133 (84th, Schwertner/Coleman) and SB 674 (84th, Campbell/Coleman). SB 133 sought to improve campus-wide identification of mental health issues by expanding the types of public school employees authorized to receive mental health first aid training that is paid for by the Department of State Health Services (DSHS). Previously, educators were the only group targeted to be trained in MHFA. SB 113 allowed DSHS to create supplemental grants to local mental health authorities (LMHAs) with any unused money appropriated for MHFA trainings.
Thousands of Texas school employees have received MHFA trainings as a result of bills passed in the 83rd and 84th Legislatures. In 2015 alone, 6,527 educators and 4,792 non-educator school staff were trained in MHFA. By 2016, over half a million individuals had been trained in MHFA across the U.S. and Texas is has the third highest number of individuals trained in MHFA (33,468, compared to California's 52,637 and Pennsylvania's 44,704).
SB 674 strengthened training requirements for public school employees by requiring them to be trained in the detection of mental or emotional disorders as well as complete a best-practice-based program that provides instruction on how to respond to the wide range of suicidal risk factors and behavioral health issues faced by students. This new training has a mandated emphasis on teaching school staff how to use de-escalation techniques and positive behavioral interventions to better support the psychological and emotional needs of students in the regular school environment. As of April 2016, TEA and the State Board for Educator Certification (SBEC) were on track to have these new training requirements fully implemented in September 2016.
Training teachers to recognize and offer support for students' mental health needs, especially before a crisis, results in better mental health outcomes for students. Although MHFA has not been re-evaluated using SAMHSA's updated criteria from 2015, MHFA is listed as an effective "legacy program" in the National Registry of Evidence-based Programs and Practices (NREPP). Studies show that MHFA trainings provide participants with a number of beneficial outcomes, including:
Decreased negative attitudes about mental health conditions
Increased confidence and comfort helping a young person in distress
Increased knowledge of mental health and behavioral health conditions
Clarified when to assess for suicide risk and how to listen non-judgmentally
Increased supportive behavior towards individuals experiencing mental health issues
Reductions in stigma associated with behavioral health conditions.
SUICIDE PREVENTION AND PROGRAMS THAT PROMOTE HEALTHY BEHAVIOR
In 2014, suicide was one of the four leading causes of death among individuals age 10-24, accounting for roughly 12 percent of all deaths in that age group. Suicide rates in the U.S have steadily increased over the last 10 years, with females age 10-14 experiencing one of the highest increases of any group. And while females are more likely to experience suicidal thoughts than males, Figure 150 shows that males are roughly four times as likely to die by suicide between the ages of 6 and 24. Furthermore, the data in Figure 150 shows that 2014 had the highest suicide rate for Texas youth age 6-24 in over a decade.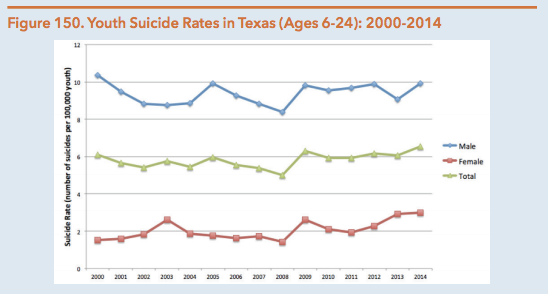 Data compiled from: Center for Disease Control. (2016). WISQARS Fatal Injury Reports, 1999-2014, for National, Regional, and State (Restricted): 2000 – 2014, Texas Suicide Injury Deaths and Rates per 100,000, All Races, Both Sexes, Ages 6 to 24, ICD-10 Codes: X60-X84, Y87.0,*U03. 
On the national level, an estimated 42,773 people of all ages died by suicide in the U.S. in 2014— that is roughly one suicide every 12 minutes. Looking specifically at nationwide trends in suicidality in high school students in 2015:
17.7 percent considered attempting suicide some time during the previous year
14.6 percent made a suicide plan some time during the previous year
8.6 percent of students attempted suicide at least once within the previous year
2.8 percent of students made a suicide attempt that resulted in overdose, injury, or poisoning.
In Texas alone, 3,254 individuals died by suicide in 2014.38 In the same year, the suicide rate in Texas (12.1 per 100,000 people) was slightly lower than that national suicide rate (13.4 per 100,000 people). The most recently available data (2013) shows that suicide in Texas is the second leading cause of death among male adolescents and adults ages 15-34 (17.1 percent all deaths in that group), and is the third leading cause of death among young adult females ages 25-35 (8.6 percent of all deaths in that group). Although there are many different causes and risk factors for suicide, as many as 90 percent of those who die by suicide have been diagnosed with a mental illness or substance use disorder. While white males have the highest suicide rates of any specific population, it is important to recognize that suicide occurs in all ethnicities, ages, races, socioeconomic classes and genders.
SB 460 (83rd, Deuell/Coleman) improved suicide prevention training for Texas educators in 2013, and those efforts continued into the 84th Legislative Session; passed in 2015, HB 2186 (84th, Cook/Campbell) required that there be an evidence-based suicide prevention training included in the annual orientation for all new school employees. SB 674 (84th, Campbell/Coleman) also strengthened suicide prevention training requirements by requiring public school educators to receive training in mental health, youth suicide, and substance use issues. In regards to suicide prevention on college campuses and universities, SB 1624 (84th, Rodriguez/ Márquez) required information about available mental health and suicide prevention services to be provided to all undergraduate, graduate and professional students in general academic teaching institutions. Similarly, HB 197 (84th, Price/ Nelson) required certain public institutions of higher education to create a web page that compiles available mental health services, including the number of the local mental health authority.
Finally, HB 2684 (84th, Giddings/Whitmire) improved suicide prevention efforts by requiring the school staff most likely to intervene in mental health crises — school resource officers (SROs) and school district police officers — to complete at least 16 hours of youth-focused education and training on behavioral health. While any school district can request this new training for its officers, HB 2684 only mandated this training for school districts with a student enrollment over 30,000. The new training was put into place in February 2016 and must include information on:
Child and adolescent development and psychology
Positive behavioral interventions and supports (PBIS)
Conflict resolution and de-escalation techniques
How to reduce the use of restraints
Effective mental health crisis intervention
The overarching behavioral health needs of children with disabilities or special needs.
While all of these bills together provide a better safety net for students that may be experiencing a psychiatric crisis or suicidal thoughts, suicide prevention continues to be an ongoing effort at both the state and local levels.
Funding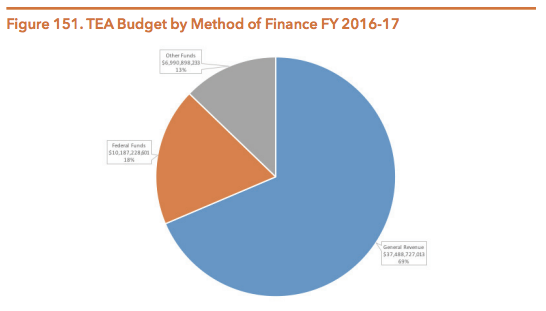 The total TEA budget for FY 2016-17 was $54,666,853,847.
Source: Texas Education Agency. (August 2016). Legislative Appropriations Request for Fiscal Years 2018 and 2019. Page 39.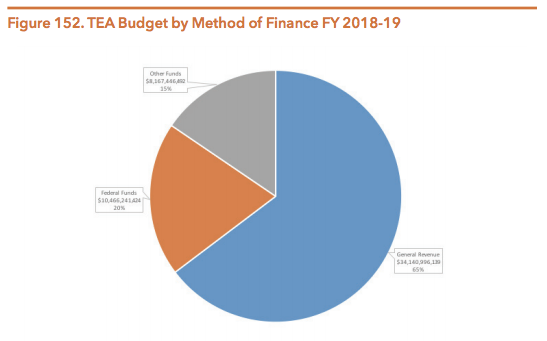 The total requested TEA budget for FY 2018-19 is $52,774,684,055. If included in the budget, the Exceptional Item Requests would add an additional $199,442,002.
Source: Texas Education Agency. (August 2016). Legislative Appropriations Request for Fiscal Years 2018 and 2019. Page 39. 

Source: Texas Education Agency. (August 2016). Legislative Appropriations Request for Fiscal Years 2018 and 2019. Pg. 39. 
Efforts to Reduce and Decriminalize Truancy
Prior to 2015, Texas law allowed school resources officers (SROs) to issue tickets to students for low-level misbehavior such as disrupting class or missing school. These tickets were citations in lieu of arrest and required the student and a parent to appear in a municipal or justice of the peace court. One type of ticket SROs gave Texas students is Failure to Attend School (FTAS), or truancy. According to the Texas Education Code, a youth commits FTAS if they miss 10 or more days in a six-month period or three or more days in a four-week period. Before the 84th Legislative session, FTAS was often treated as a Class C Misdemeanor and processed in an adult criminal court forum where students were not entitled to many of the protections available in a juvenile court. One study by Texas Appleseed found that 34 percent (roughly 76,000 cases) of Class C Misdemeanor tickets for students in 2011 were for FTAS.
However, the criminalization of truancy through the use of formal courts and fines is not an effective method to reduce the prevalence of FTAS because it fails to address the underlying root causes for the absences. Students punished through the criminalization of truancy were often further alienated from school while going through the formal court system and some students ended up with a criminal conviction on their record, which has the possibility of negatively impacting future schooling, educational funding, and/or employment. The burden of fines is particular tough on families already under financial strain.
The 83rd Legislature passed two bills to improve the approaches and strategies used to reduce FTAS:
HB 1479 (83rd, Villarreal/Van de Putte) established the requirement for a committee in counties of a certain size to recommend uniform truancy policies, and
SB 1419 (83rd, West/Lewis) provided funding for juvenile case managers through court costs, expanded the services they provide, and established a truancy prevention and diversion fund.
HB 1479 and SB 1419 attempted to improve policies related to truancy prevention, but schools were still authorized to issue Class C Misdemeanors for FTAS following the 83rd Legislative session.
In 2015, the 84th Legislature passed SB 107 (84th, Whitemire/Thompson) and HB 2398 (84th, J. White/Whitemire). SB 107 established a requirement for all public schools to have a campus behavior coordinator who is responsible for maintaining student discipline, in addition to notifying parents and guardians when a student has been involved in certain types of disciplinary measures. HB 2398 repealed FTAS as a criminal offense and removed school absences from the list of conduct that warrants community supervision. Courts now have the discretion to dismiss truancy cases "if the court finds that a dismissal would be in the interest of justice because: (1) there is a low likelihood of recidivism by the defendant; or (2) sufficient justification exists for the failure to attend school". HB 2398 also developed a set range of fines that can be used in cases in which a parent contributed to the child's absences from school.
Delivery of Mental Health Services in Schools
Schools have a long history of providing mental health services to students and because children spend such a large part of their day in academic settings, schools often serve as the first point of intervention when a child needs psychiatric testing or behavioral health services. On the national level, the President's New Freedom Commission on Mental Health recognized the critical role that schools can play in the continuum of mental health services. Schools can provide convenient access to services for children and families in an environment that is less stigmatizing than a traditional mental health setting.
Early intervention with mental health issues supports academic achievement, increases healthy stress management skills, improves social and emotional functioning and peer interactions, and allows schools to intervene before there is significant psychological deterioration. Children who enter kindergarten with effective social skills have an easier time developing relationships with peers and generally do better in school. Furthermore, young children who receive effective, age-appropriate mental health services are more likely to complete high school, have fewer contacts with law enforcement, and improve their ability to live independently and be productive. Without early intervention, child and adolescent disorders frequently continue into adulthood. As much as 50 percent of all lifetime cases of mental illness are apparent by age 14, and 75 percent are apparent by age 24.
School-based mental health services encompass a wide variety of different programs and approaches. A study from Texas A&M University-Kingsville on access to mental health services found that rural schools struggle to provide mental health services to students; nearly half of the counselors surveyed in the study said that less than 25 percent of their students received adequate counseling services. The study also referenced prior research that said depression, substance use and suicide rates among children are higher in rural areas and that school counselors play a critical role in providing mental health services to students. In Texas, the suicide rate is roughly 15 percent higher in rural counties (less than 20,000 residents) than in metropolitan ones. Barriers to delivering mental health services lead to inconsistent mental health care from school to school but even though access to services and supports varies based on a school's region (i.e. urban vs. rural), academic level, and student population, most schools offer some level of mental health screening, referral or services.
The different methods of delivering mental health services in schools are described in Figure 154.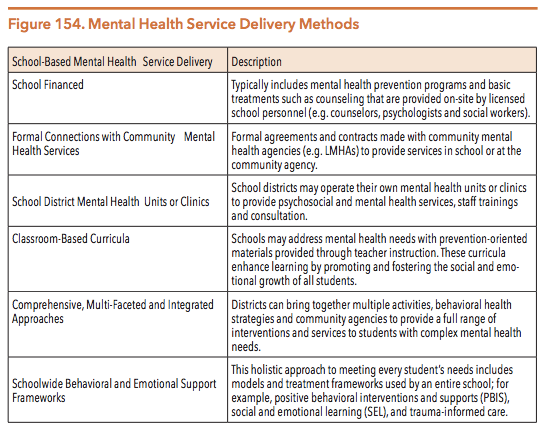 Special Education Services in Texas
Schools are accountable for the academic performance of all students, including those with serious behavioral issues or mental health conditions. When academic performance is impacted due to a student's disability, the Individuals with Disabilities Education Act (IDEA) requires schools to provide special education and related services based on an Individualized Educational Plan (IEP), which may include mental health treatment and supports.
Special education and related services can include a wide range of supports depending on each student's specific and individualized needs. The types of special education services and supports provided are determined through an annual Admission, Review and Dismissal (ARD) meeting with the student, the student's parents and/or caregivers, any mental health professionals involved in the child's care, school personnel, and at least one of the child's regular and special education instructors. The ARD meeting is an essential part of creating, updating, amending and improving the individualized education plan (IEP) on an ongoing basis. The IEP is the organizing framework and plan used to specify the behavioral supports and interventions that must be provided by the school district to help the student experience stability and success in the classroom.
Some examples of school-based and educational services related to behavioral health include:
Assessments or medical services to diagnose or evaluate a student's disability
Parental and family counseling
Case management
Skills training
Specialized classes and services for students with developmental delays, physical conditions, Intellectual and Developmental Disability (IDD) diagnoses, and other types of disabilities
An estimated 8.7 percent of school-aged children in Texas were identified as having special education needs in the 2015-2016 school year. The percentage of children in Texas schools identified as eligible for special education services is far lower than in other states. Of the 463,185 students identified as having special education needs in 2015-2016:
5.8 percent were classified as having emotional disturbance
10.0 percent were classified as having an intellectual disability
11.7 percent were classified as having autism
34.4 percent were classified as having a learning disability
SPECIAL EDUCATION FOR EARLY CHILDHOOD AND YOUTH TRANSITIONING TO ADULTHOOD
Because children's brains are growing and their behaviors are constantly changing, it can be difficult to diagnose a young child with a psychological condition. There are also children without a mental health diagnosis who may still benefit from early intervention services. To bridge the gap for young children who do not have a specific diagnosis and may not receive services before entering school in Kindergarten, the Individuals with Disabilities Education Act (IDEA) allows for children between the ages of three and nine to qualify for special education services under a broader diagnostic category called "developmental delay," so long as the diagnosis is made using proper instruments and procedures. The following types of diagnostic categories are designated as developmental delays at the federal level:
Physical development
Cognitive development
Communication development
Social or emotional development
Adaptive development
However, states have the authority to decide what to call the "developmental delay" category, how to define it, and what ages to include as eligible. Texas calls this development delay category "Non-Categorical Early Childhood" (NCEC) and children between the ages of three and five who have "general delays in their physical, cognitive, communication, social, emotional or adaptive development(s)" are included in the developmental delay category and eligible to receive special education services. Children who fall under the NCEC category are provided services through a program called Preschool Program for Children with Disabilities (PPCD). PPCD services are provided in a variety of settings such as pre-kindergarten, resource classrooms, self-contained classrooms, or community settings such as Head Start and pre-school. In addition to becoming eligible for PPCD services through the NCEC category, children in Texas may also qualify for PPCD under the following specific diagnoses:
Intellectual disability
Emotional disturbance
Specific learning disability
Autism
Texas has also worked to bridge the gap in services and supports for students with special needs transitioning out of high school. To assist students who receive special education services with a successful transition from school to appropriate postschool activities, such as postsecondary and vocational education or integrated employment and independent living, schools must begin individual transition planning with students and their families by age 14. Schools are required to identify needed courses and related services for postsecondary education and to develop adult living objectives through each student's IEP. The availability, comprehensiveness, and quality of transition services available in Texas vary widely across the state.
The 83rd Legislature passed HB 617 (83rd, Rodriguez/Zaffirini), which required school districts to assign at least one employee to provide transition and employment services to students receiving special education services. HB 617 also requires school districts to work with DSHS, TEA, and other state agencies to make transition information available through a central website: www.transitionintexas.org. To further strengthen supports for youth transitioning into adulthood, the 84th Legislature also passed SB 1117 (84th, Zaffirini/Naishtat), which required information on housing and independent living to be provided in the transition/discharge plans given to youth over the age of 16 who are under DFPS conservatorship. Finally, SB 1259 (84th, Rodríguez/Allen) improved the Admission, Review and Dismissal (ARD) process wherein families and school staff develop an Individual Education Plan (IEPs) by requiring the ARD meeting to include a teacher who is involved with implementing a portion of the child's IEP. SB 1259 also required there to be notes taken about actions taken and discussions during ARD meetings.
ELIGIBILITY FOR SPECIAL EDUCATION SERVICES
Special education services encompass a wide range of interventions and children can become eligible for these services by receiving a diagnosis for a specified condition that impacts the child's learning and the child has a need for special education services. Figure 155 shows the various mental health diagnoses, behavioral conditions, and developmental disabilities that made 463,185 students in Texas eligible for special education services in the 2015-2016 school year: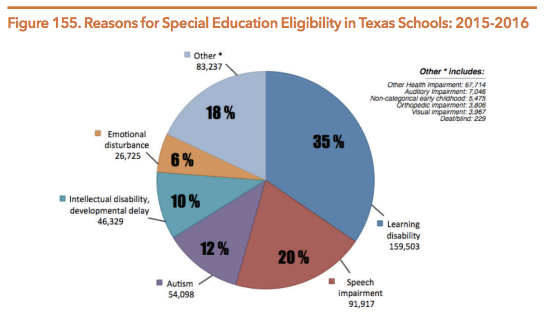 Data obtained from: Texas Education Agency. (July 2016). 2015-2016 Special Education Reports: All Texas Public Schools Including Charter Schools, Students Receiving Special Education Services by Primary Disability, PEIMS Data 2015-16.
In the 2015-2016 school year, over 26,000 Texas students were identified as having serious emotional disturbance — roughly 5.8 percent of all students identified as eligible for special education services. Nationwide, students identified as having serious emotional disturbance have the highest rate of school failure, with half of this population dropping out of high school. However, there are students who receive special education based on other primary disabilities (e.g. intellectual disabilities and autism) who also have mental health needs, such as anxiety, post traumatic stress disorder, attention deficit disorder, and more.
Eligibility for school-based mental health services for serious emotional disturbance is based on the student exhibiting one or more of the following characteristics to a marked degree over an extended period of time, in ways that adversely affect the student's educational performance:
An inability to learn that cannot be explained by intellectual, sensory, or health impairments
An inability to relate appropriately to peers and teachers
Inappropriate types of behaviors or feelings under normal circumstances
A general mood of unhappiness and depression
A tendency to develop physical symptoms, pains or fears from personal or social problems
In determining whether special education services will be provided, school personnel also seek evidence that the student's behavior and need for services is not the result of a temporary reaction to adverse yet normal situations at home, in school, or in community situations.
FUNDING FOR SPECIAL EDUCATION SERVICES
In the 2013-2014 school year, roughly 6.5 million public school students received special education services across the U.S — about 13 percent of all students nationwide. During the same year, only 8.6 percent of the student population in Texas received special education services — the lowest percentage in the country. Additionally, the percentage of students identified with emotional disturbance in the special education population has decreased nationally and in Texas in recent years.
From the 2003-2004 to the 2012-2013 school year, the population of Texas students receiving special education services decreased by 3.1 percent while there was only a 0.3 percent decrease nationally. The proportion of students enrolled in special education services in Texas has dropped over the last ten years, but the reason for the percentage decrease is unclear and further research on this topic is needed to better understand discrepancies between Texas and national special educational enrollment levels.
Funding for the "Students with Disabilities" strategy (1.2.3) within TEA is expected to remain relatively consistent in the upcoming years, with $2,108,308,102 budgetted for the 2016-17 biennium and $2,153,551,378 requested for the 2018- 19 biennium. Federal funding accounted for 94.6 percent (2016-17) and 94.8 percent (2018-19) of the total funding for the "Students with Disabilities" strategy within TEA. In order to comply with the Texas Legislature's goal of reducing government agency budgets by four percent, TEA has proposed a number of funding cuts, including completely defunding of the Academic Innovation & Mentoring program, the Best Buddies program, and the Educator Excellence Humanities Texas program.
SPECIAL EDUCATION FUNDING: INDIVIDUALS WITH DISABILITIES EDUCATION ACT (IDEA)
Under the Individuals with Disabilities Education Act (IDEA), children and adolescents between the ages of 3 and 21 who have disabilities are entitled to receive a free and appropriate public education. The Individuals with Disabilities Education Act (IDEA) first passed in 1975 (as the Education for All Handicapped Children Act, PL 94-142) and has been reauthorized multiple times. When IDEA was created, the expected cost of educating students with special needs was projected to be twice as much as the national average of educating students who do not require special education services. To support schools with increased costs, the federal government committed to contributing up to 40 percent of this anticipated additional cost. Despite this commitment, the federal government has given less than half of its committed financial support since IDEA's first year of funding in 1981.
Overall, spending for special education programs has increased since the inception of IDEA and its predecessor, but federal and state funding for special education has not increased proportionately. Local funding must make up the difference in funding for this increased need in order to meet IDEA's requirements for funding special education services in schools. As Figure 156 shows, federal funding for special education through IDEA has remained relatively constant for the past 14 years and it is expected to remain constant despite an increase in the number of students eligible to receive special education. This trend of under-funding special education at the federal level resulted in IDEA falling more than $10 billion short of being fully funded in FY 2014.
Excluding funding for preschools through IDEA, TEA received $1,952,599,033 in federal IDEA Part B funding for the 2016-17 biennium, and that number is expected to increased by 2.3 percent (to $1,996,823,246) for the 2018-19 biennium.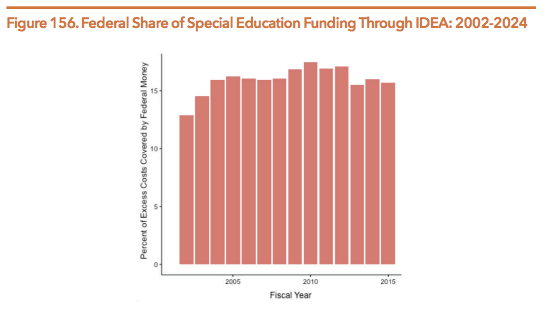 Source: Dancy, K. (March 23, 2016). Fully Funding IDEA: A Democratic Dream or Just an Empty Promise?. New America Foundation
SPECIAL EDUCATION FUNDING: MEDICAID
In addition to funding from the federal and state government through IDEA, schools can bill Medicaid directly for certain eligible services through the School Health and Related Services (SHARS) program. Services provided by SHARS are made available through the coordination of TEA and the Health and Human Services Commission (HHSC). SHARS is a Medicaid financing program that allows local school districts and shared services arrangements (SSAs) to obtain Medicaid reimbursement for certain health-related services provided to students in special education. The state match requirement for SHARS Medicaid funding is met by using state and local special education allocations that already exist. School districts and SSAs must enroll as Medicaid providers and employ or contract with qualified professionals to provide these services.
The SHARS program includes:
Assessment
Audiology
Counseling
School health services
Medical services
Occupational therapy
Physical therapy
Psychological services
Speech therapy
Special transportation
Personal care services.
In order to receive SHARS services, students must be eligible for Medicaid, qualify to receive special education services under IDEA, and have an IEP.
Mental Health Support Systems for Schools
Mental health services are required by law to be provided for students who receive special education services if those services are part of their Individual Education Plan (IEP). Although schools are not required to provide mental health services unless specifically stated in an IEP, there are still students in the general population who receive mental health services. Mental health supports and services vary between individual schools and districts, but there are certain mental health services available across the state. This next section describes the mental health services and related programs available statewide.
EDUCATION SERVICE CENTERS (ECSs)
Created in 1965, 20 regional educational service centers (ESCs) in Texas provide support and technical assistance to all school districts throughout the state in a variety of areas, including special education and behavioral support. A map of service center regions is shown in Figure 157.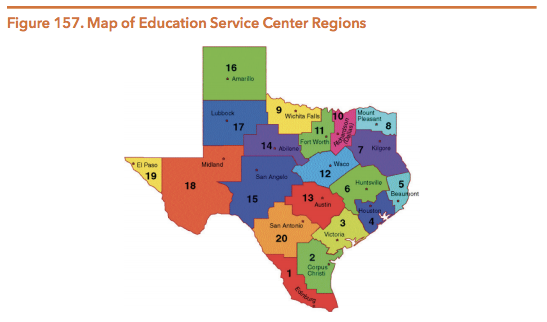 Source: Texas Education Agency. (2016). Education Service Centers Map. 
Regional education service centers also specialize in specific topic areas and services and then provide resources, support, programmatic assistance and general expertise to school districts or schools statewide. For example, the Region IV Education Service Center in Houston specializes in Positive Behavioral Interventions and Supports (PBIS) with the goal of enhancing the education experience for all students by addressing the needs of students with behavior challenges. Additionally, the Region XIII Education Service Center in Austin has a Behavior Team that provides general and special education specialists who focus on providing campuses with workshops, consultations, and technical assistance for behavioral supports.
A total of $25 million was allocated for ESCs in the 2016-17 biennium, and TEA reduced funding for ESCs by two percent for the 2018-19 biennium. The ESC infrastructure as a whole supports schools in complying with IDEA and saves public and charter schools an estimated $623.5 million per year. Annual savings are mainly a result of school districts having access to cheaper products and services through ESCs (as opposed to the open market or running those programs internally) and reduced transportation and staffing costs provided through distance learning opportunities (as opposed to in-person trainings).
A total of 903,257 individuals were trained through ESCs in 2015, up from 853,573 trained in 2013. For 2017-2019, TEA expects to continue training an estimated 885,000 individuals per year through the state's 20 ESCs.
COORDINATED SCHOOL HEALTH MODEL
Counseling and mental health services are a core element of TEA's Coordinated School Health Model. DSHS defines coordinated school health as "an integrated, systematic set of planned, sequential, school-affiliated strategies, activities and services designed to advance student academic performance and promote their optimal physical, emotional, social and educational development." Texas school districts are required to provide a coordinated school health program by law. The Coordinated School Health Model focuses on eight core components of student health, modeled after the Centers for Disease Control and Prevention's 8-Component Model, and is directed by a mandatory, multidisciplinary team, known as the School Health Advisory Council (SHAC). SHAC members are appointed by the school district to serve and make recommendations for the district's Coordinated School Health program.
The 8-Component Model for Coordinated School Health includes the following components:
School health services
Counseling, psychological and social services
Family and community involvement
Nutrition services
Physical education
Healthy school environment
School-site health promotion for staff
Comprehensive school health education.
COMMUNITIES IN SCHOOLS (CIS) AND DROPOUT PREVENTION
Communities in Schools (CIS) is a national dropout prevention program funded through state and local support. CIS provides individualized case management, counseling, and other mental health-related services. In the 2014-2015 school year, CIS provided case management services for 87,990 students through 27 local CIS programs operating in 145 school districts across Texas. All but two percent of the students receiving CIS case management services in grades 7-12 stayed in school during the 2014-2015 school year, and 94 percent of CIS participants were promoted to the next grade or graduated.
State funding cuts to the CIS program in 2013 significantly impacted service delivery, but the roughly $5 million that was cut from the CIS budget was mostly restored in the years since, increasing annual state appropriations for CIS to an estimated $15,521,815 in 2016 and 2017. This partially restored funding allowed CIS to serve more students in 2015 (87,990) than in 2013 (63,527), but state funding for CIS is still roughly $600,000 less than appropriations before the 2012-2013 funding cuts, which limits the amount of students who can benefit from CIS services. CIS is also at risk of losing more funding in the 85th legislative session; in an effort to comply with the Legislature's stated goal of reducing spending in government agencies by four percent, the legislative appropriations request for TEA reduces CIS funding by 14.7 percent (or $4,541,545) for the 2018-19 biennium.
To learn more about CIS services in Texas and see a list of all CIS providers in the state.
Exclusionary Discipline in Schools
Exclusionary discipline in schools refers to practices that remove students from the classroom. Removal from the classroom excludes students from common, daily experiences that are conducive to normal childhood and student development. Under state law, schools have the option to remove or expel students to disciplinary alternative education programs (DAEPs) or juvenile justice alternative education programs (JJAEPs). Schools can even remove or expel special education students after following protective procedures required under federal law. Many children are sent to these programs more than once in a given school year; for instance in the 2014-2015 school year, 616,987 students in Texas were removed from the classroom at least once, adding up to a total of 1,840,642 separate incidents that resulted in the removal of a student from the classroom.
Unfortunately, exclusionary discipline has a disproportionate impact on students receiving special education services. The following is a breakdown of the overrepresentation of all exclusionary discipline removals for the 2014-2015 school year: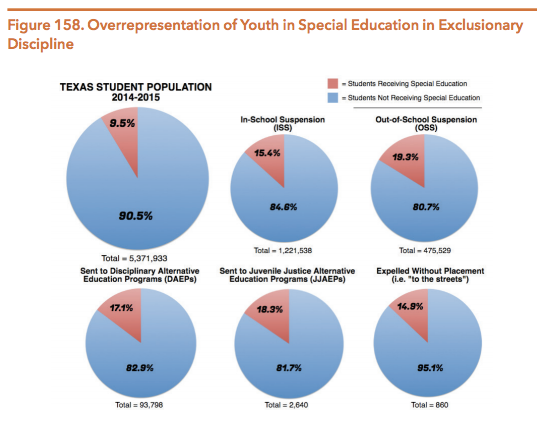 Note: Total student population and special education population data in this chart is increased because discipline reports are tabulated using the 3rd submission of PEIMS data while annual enrollment is tabulated using 1st submission data from the fall. Data obtained from: Texas Education Agency. (2016). Counts of Students and Discipline Actions by Discipline Action Groupings: PEIMS 2014-2015 Data. 
Removals from the classroom to these disciplinary programs can be mandatory or discretionary. Mandated referrals, determined by state code, occur when a student performs a specific act that automatically requires the removal from the classroom. Discretionary referrals, determined by school district policy, vary widely from district to district. Discretionary referrals are made by teachers or administrators based on policies in their local student code of conduct. These policies can be vague, allowing for wide interpretation when determining what and how behaviors should be disciplined. A significant portion of disciplinary referrals are not mandated by law, but instead authorized at the discretion of school districts. In the 2014-2015 school year, discretionary removals accounted for:
51.9 percent of expulsions to JJAEPs
58.8 percent of DAEP removals
60.8 percent of expulsions without placement (i.e. "to the streets")
Discretionary removals also disproportionately impact children receiving special education services; in 2015, students in special education were more likely to be sent to In-School Suspension (34.5 percent of ISS actions) or Out-of-School Suspension (16.3 percent) for discretionary reasons compared to their peers (22.8 percent and 8.5 percent, respectively).
Breaking Schools' Rules, a pivotal 2011 study conducted by the Council of State Governments Justice Center and the Public Policy Research Institute at Texas A&M University, found that three out of four Texas students who qualified for special education had been suspended or expelled at least once. Students diagnosed with emotional disturbance were even more likely to be suspended or expelled. More recent research conducted in 2014 found that students who had been removed from the classroom (i.e. suspended) were up to 10 times more likely to feel negatively about school, be held back a grade, fail academically, drop out of school entirely, or be incarcerated. There has been some increased attention in recent years on the over-representation of students receiving special education services among the population of students removed from classrooms for disciplinary reasons.
Exclusionary discipline practices also disproportionately target African American students. While only representing 12.7 percent of Texas' total student population in the 2014-2015 school year, African American youth accounted for:
34.8 percent of out-of-school suspensions (OSS),
25.4 percent of in-school suspensions (ISS), and
15.9 percent of expulsions.
IN-SCHOOL SUSPENSIONS (ISS) AND OUT-OF-SCHOOL SUSPENSIONS (OSS)
A disruptive student can be removed from the regular classroom and assigned one or more days to a separate ISS classroom to complete their class assignments, or they may be required to remain off campus for a specified period of time (OSS). According to the Texas Education Code, the principal or other appropriate school administrator may also suspend a student for engaging in conduct identified as prohibited in the school's code of conduct. In addition to removing children from their regular classroom and from normal interactions with their peers in a classroom, ISS and OSS can also lead to significant cost increases for schools and families. ISS and OSS place a strain on families who need to make transportation and/or childcare arrangements, and schools lose roughly $45 in funding from the state for each day a child is absent.
In the 2014-2015 school year, students receiving special education services accounted for 9.5 percent of the total student population but represented 15.4 percent of in-school suspensions (ISS) and 19.3 percent of out-of-school suspensions (OSS).
EXPULSIONS TO DISCIPLINARY ALTERNATIVE EDUCATION PROGRAMS (DAEPS)
Every school district in Texas is required to provide a Disciplinary Alternative Education Program (DAEP). Districts may operate their own DAEP or can join together to support a cooperative program.A DAEP in smaller rural districts may be a separate classroom on the school campus, but DAEPs are more frequently housed at a separate campus. According to statute, the central academic mission of DAEPs "is to enable students to perform at grade level." Any DAEP that serves a student with an Individualized Education Plan (IEP) must provide the services outlined in the IEP. The Breaking Schools' Rules study found that "because there has been little monitoring and oversight of DAEPs, the quality of the programming and instruction varies among districts, with some students in DAEPs poorly served by under-resourced programs."
Certain infractions require mandatory removal to a DAEP according to the Texas Education Code:
Committing a felony or engaging in conduct punishable as a felony
Assaulting another student or school employee
Selling, giving, possessing, or being under the influence of a dangerous drug or alcohol
Committing an offense that involves volatile chemicals, public lewdness, or retaliation against a school employee
Making a terroristic threat or a false alarm/report.
Texas schools also have wide discretion to send students to a DAEP for other offenses listed in their student code of conduct.Depending on the school district, these offenses can range from "fighting and gang activity to disrupting class, using profanity, playing a prank such as throwing a tennis ball in the hallway and narrowly missing another student, misusing a school parking decal, inadvertently bringing a prescription or over-the-counter drug to school, or doodling in class when the drawing contains a weapon." In the 2014-2015 school year, 58.8 percent of all removals to DAEPs (or 55,192) were discretionary.
Questions have been raised about the quality of education services provided in DAEPs. The Legislative Budget Board has expressed the following concerns about DAEPs:
Failure to staff the DAEP with certified teachers
Failure to provide a learning environment equivalent to mainstream campuses
Inadequate training for DAEP instructors and staff
Lack of instructional alignment between DAEP and mainstream campuses
Insufficient communication between a student's home campus and DAEP
Absence of transitional programming upon a student's return from a DAEP.
Similar to other methods of exclusionary discipline, students receiving special education services are overrepresented in removals from the classroom to DAEPs. In the 2014-2015 school year, 9.5 percent of all students in Texas public schools were identified as eligible for special education services, but those students represented 17.1 percent of referrals to DAEP.
EXPULSIONS TO JUVENILE JUSTICE ALTERNATIVE EDUCATION PROGRAMS (JJAEPS) & EXPULSIONS WITHOUT PLACEMENT (ALSO KNOWN AS "EXPULSIONS TO THE STREETS")
When children in Texas are expelled from school, they are sent to either Juvenile Justice Alternative Education Programs (JJAEPs) or expelled without placement into a program (i.e. "expelled to the streets"), and a small number of expelled students are sent to DAEPs. Juvenile Justice Alternative Education Programs (JJAEPs) were created in 1995 to provide ongoing educational services for students who have been expelled. Every county in Texas with a population of more than 125,000 residents must have a JJAEP. JJAEPs are operated by juvenile boards with oversight provided by the Texas Juvenile Justice Department (TJJD) so when a student is expelled to a JJAEP, that referral is considered involvement in the juvenile justice system by itself. Legislative intent in creating JJAEPs was "to provide continuing educational opportunities for students expelled from school for the most serious offenses." The primary goals of JJAEPs are to "reduce delinquency, increase offender accountability and rehabilitate offenders through a comprehensive, coordinated community-based juvenile probation system." Students younger than 10 cannot be sent to a JJAEP; instead, they are sent to DAEPs for engaging in conduct that would result in expulsion to a JJAEP for children over 10 years old. School districts without a JJAEP may send expelled students to DAEPs or opt to expel them without placement, also known as expulsion "to the street" because students serve the length of their expulsion unsupervised and outside of a school setting. Overall, referrals to JJAEPS following expulsion have declined by 33 percent between the 2010-2011 and 2014-2015 school years.
In the 2014-2015 school year, JJAEPs served 282 school districts across 26 counties in Texas. Texas school districts placed students into JJAEPs on 2,640 separate occasions in 2014-2015, and 483 of those placements (or 18.3 percent) were for students in special education. While students receiving special education are still disproportionately represented in JJAEP referrals, that overrepresentation has fallen from 20 percent in the 2010-2011 school year.
Looking specifically at a report from the Texas Juvenile Justice Department (TJJD) that cited 438 entries into JJAEPs for students in special education in 2014-2015:
199 students had a primary diagnosis of a Learning Disability (45 percent)
104 students with a primary diagnosis of Serious Emotional Disturbance (24 percent)
135 had a primary diagnosis of Other (31 percent), which includes Attention Deficit Disorder, speech problems, physical disabilities, traumatic brain injuries, or intellectual disabilities.
Some school districts use JJAEPs at a higher rate than others, and the size of the school district does not necessarily correlate with the number of student expulsions. Similar to removal to DAEPs, students can be expelled to JJAEPs for mandatory or discretionary reasons. Mandatory expulsions occur when a student uses, exhibits, or possesses a weapon or engages in serious criminal behavior. Discretionary expulsions vary widely from serious criminal offenses that occur within 300 feet from the school, to assault on a school employee or serious misbehavior in a DAEP. In 2014-2015, 51.9 percent of expulsions to JJAEPs were discretionary while 48.1 percent were mandatory.
The vast majority (80 percent) of mandatory referrals to JAEPs in 2014-2015 were for felony drug offenses or weapons offenses while reasons for discretionary referrals were more varied, suggesting wide variation in discretionary disciplinary policies between schools. Discretionary expulsions for "serious or persistent misbehavior" and misdemeanor drug charges represent the vast majority (76 percent) of all discretionary expulsions in 2014-2015. There are no statewide standards that set minimum or maximum amounts of time for expulsions, so there is wide variation across school districts regarding how much time students spend in a JJAEP. However, TJJD publishes data that provides some understanding of how long students spend in JJAEPs at the macro level. In 2014-2015, the average length of stay for all students who finished JJAEP was 77 days (84 days for mandatory expulsions and 72 days for discretionary) — a slight reduction compared to previous years.
In the 2014-2015 school year, students receiving special education made up only 9.5 percent of the student population in Texas but accounted for 18.3 percent of expulsions to JJAEPs and 14.9 percent of expulsions without placement. Similar to the overrepresentation of African Americans in in-school and out-of-school suspension rates, a 2014 study found that African American students nationally are approximately three times more likely then white students to be expelled.
While total expulsions (both to a JJAEP or to the street) increased approximately 38 percent between 2002 and 2007, there was a 26 percent decrease in expulsions between 2007 and 2009 and expulsions have continued to decrease since 2009. Figure 159 shows the trend of expulsions between the 2007-2008 and 2014-2015 school years.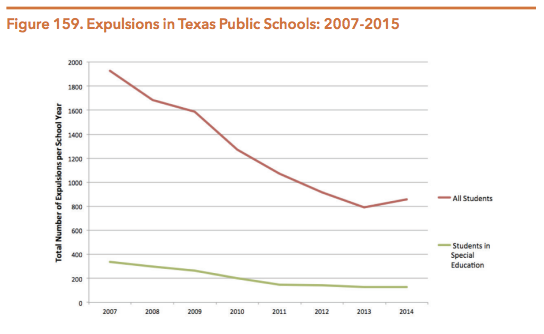 Note: Years correspond with the beginning of the school year (i.e. 2007 stands for the 2007-2008 school year. Data obtained from: Texas Education Agency. (2007-2015). Discipline data products: 2007-2015 counts of students and discipline actions by discipline action groupings (PEIMS Data). 
Many experts agree that there is a school-to-prison pipeline for many of the students who are removed from the classroom using exclusionary discipline practices. Child advocates and school districts in Texas are increasingly utilizing methods of disciplining children without suspending or expelling them to programs like JJAEPs, but it is still important to understand the short- and long-term effects experienced by children coming out of JJAEPs. Although the goal of JJAEPs is to rehabilitate and integrate students back into a mainstream school environment, alternative education programs have been linked to increased levels of delinquency and adversity. For example, students who have been sent to ISS, OSS, or a DAEP are more likely to be expelled and sent to a JJAEP than those who are not referred to one of these exclusionary discipline actions. Furthermore, students sent to a DAEP or a JJAEP are more likely to drop out of school and enter the adult criminal justice system. However, data from TJJD suggests that there may be some short-term positive effects from attending a JJAEP; in the short-term, a student's successful completion of a JJAEP program appears to reduce the rate of school absences, improve academic achievement, and lower the number of disciplinary referrals. One study conducted by Texas Appleseed concluded that "placing students in JJAEPs for 'serious or persistent misbehavior' not only fails to correct behaviors, but leads to increased risk for future involvement in the juvenile justice system." While these correlations do not imply a direct causation of exclusionary discipline resulting in future incarceration, these findings call into question the effectiveness of ISS, OSS, DAEPs, and JJAEPs in successfully rehabilitating students on a longterm basis and integrating them back into a mainstream educational setting.
SCHOOL TICKETING AND CLASS C MISDEMEANORS
For many years under Texas law, school resource officers (SROs) could issue tickets to students for low-level misbehavior such as disrupting class or skipping school. These tickets were citations in lieu of arrest for Class C misdemeanors and required the student and a parent to appear in a municipal or county court, possibly facing up to $500 in fines. The proceedings were public criminal proceedings and students did not have a right to an attorney because Class C misdemeanors are not punishable by jail time. These tickets inserted students into the criminal justice system and unfairly targeted students in special education. Many families could not afford the fines and failure to pay can result in a warrant for arrest upon the student's 17th birthday.
During the 83rd Legislative Session, two bills were passed that addressed the increasing number of students receiving Class C misdemeanors for minor misbehavior. SB 393 (83rd, West/Lewis) and SB 1114 (83rd, Whitmore/Herrero) worked in conjunction to prohibit school resource officers (SROs) from issuing tickets for Class C misdemeanors (excluding traffic violations) by only allowing SROs to issue complaints for Class C misdemeanors. In contrast to a ticket, a complaint may or may not lead to a criminal charge once it has been submitted to the court for evaluation, depending on the context of the behavior and the amount of supporting documentation and evidence provided. SB 393 and SB 1114 also required that schools explore alternatives to issuing tickets. For example, schools may use graduated sanctions or refer students to first-time offender programs if they engage in a Class C misdemeanor, or encourage prosecutors to consider non-court sanctions such as tutoring or counseling for an offense.
In 2015, the 84th Legislature built on the previous session's significant progress in addressing the overuse of ticketing and disciplinary sanctions in public schools. The most impactful change dealt with repealing truancy as a ticketable offense and promoting strengths-based disciplinary intervention programs that can prevent problems before law enforcement gets involved.
CORPORAL PUNISHMENT AND THE USE OF FORCE IN SCHOOLS
In Texas, each school district is allowed to determine whether corporal punishment is permitted on their campus. According to the most recently available data, Texas is one of the states with the highest number of students receiving corporal punishment, with approximately 40 percent of Texas school districts permitting students to be struck when they misbehave. In the 2011-2012 school year alone, roughly 28,569 children in Texas received corporal punishment (i.e. spanking or paddling). Nationwide and in Texas, students with disabilities and African American students are disproportionately the targets of corporal punishment. Corporal punishment can cause serious injury, psychological harm, trauma, and academic disengagement; it also is not an evidence-based practice and has been banned by the majority of states (31) in the U.S and many school districts, including Houston ISD. Internationally, over 100 countries have banned all corporal punishment in schools and the U.N. has condemned corporal punishment as a violation of human rights. Beginning in 2012, parents in Texas are now given the option to sign a waiver that excludes their child from receiving corporal punishment, but allowance of corporal punishment remains the default option in many districts.
Use of force (e.g. physical restraints and Tasers) by SROs has also surfaced as a concern of child advocates. While under 9 percent of Texas students were classified as special education (i.e. served by IDEA) in the 2011-2012 school year, those students served by IDEA represented 79 percent of students who were physically restrained.195 While the Texas Police Chiefs Association states that many police departments working in schools have a specific policy on use of force in schools, those policies are not shared with the public. Historically, SROs who are working to protect public school environments have not had training in trauma-informed care, age appropriate discipline for youth with cognitive or emotional disabilities, appropriate techniques for de-escalation specific to child-centered settings, or restraint training. However, HB 2684 (84th, Giddings/Whitmire) improved mandated training for SROs to include de-escalation techniques, positive behavioral interventions, and the behavioral health needs of children with disabilities and mental health needs. TEA also requires each school to have a team of school staff trained in restraints appropriate for youth and certain school staff positions are required to be a part of this team. The participation of SROs is not mandated in current law.
A particular concern is the use of Tasers and pepper spray by SROs in Texas public schools. These weapons are completely (Tasers) or mostly (pepper spray) prohibited from being used in juvenile justice facilities, and advocates argue that the same should be true for public schools. Some school districts in Texas, such as the Houston ISD, have already banned the use of Tasers and limited the use of pepper spray by SROS at the local level. There was an unsuccessful legislative attempt to ban Tasers and pepper sprays in schools statewide during the 83rd Legislative Session and there are currently no statewide standards regarding the use of Tasers by SROs. There has been a renewed push against the use of these weapons in schools after one high school student in Central Texas intervened to stop a fight and fell into a coma after he was Tasered by an SRO and hit his head on the ground.
There are districts implementing less aversive ways to address discipline matters. One example is crisis intervention teams (CIT) for children and youth that are designed to divert individuals with mental health needs to appropriate behavioral health services and supports instead of referring them to the juvenile justice system. Building community partnerships to support youth's ability to access services and supports is the foundation of a successful CIT program. As an example, Bexar County created the Children's Crisis Intervention Training (CCIT) for use in schools in the Greater San Antonio area. The 40-hour training is approved by the Texas Commission on Law Enforcement Officer Standards and provides Continuing Education Units (CEUs) for SROs who have not previously received any CIT training. The CCIT includes education on:
Officer tactics and safety in school campus environments
Active listening and de-escalation techniques
Mental illness, learning and developmental disabilities, and substance abuse in children and youth
Psychotropic medications
Family perspective and community resources
Legal issues relating to school environment and minors and emergency detention
Role-play scenarios that allow officers to gain practical experience in active listening and de-escalation techniques specific to students experiencing a crisis.
Holistic Approaches to Discipline and Student Mental Health
Exclusionary discipline practices have developmental, behavioral, and academic costs, as well as a high financial cost. The alternative models of intervention discussed in this section can support the social and emotional development of students and improve student behavior while remaining more cost-effective than the resource-intensive exclusionary discipline practices (i.e. suspension and expulsion) that are currently used in Texas public schools. This section will focus on four specific interventions:
positive behavioral interventions and supports (PBIS)
social and emotional learning (SEL)
trauma-informed care (TIC)
restorative justice (also known as restorative discipline)
Public schools in Texas are increasingly moving to proactive, coordinated approaches to meet the behavioral and academic needs of all students. While some students with mental health needs require tailored interventions and trained professionals, there are also intervention models that provide a more holistic approach to supporting the developmental needs of all students. These initiatives generally include campus-wide prevention activities, targeted early intervention for students with risk factors, and individualized services for students with complex needs. Texas is among a number of states promoting positive approaches to preventing mental and emotional problems in children.
POSITIVE BEHAVIORAL INTERVENTIONS AND SUPPORTS (PBIS)
A well-known example of a positive and proactive approach to school-based services is Positive Behavioral Interventions and Supports (PBIS). Figure 160 illustrates the basic framework of PBIS.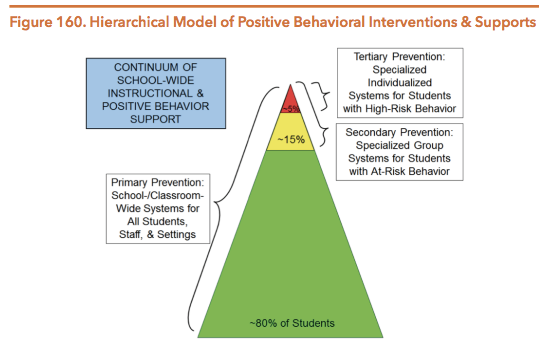 Source: U. S. Department of Education & Office of Special Education Programs' Technical Assistance Center on Positive Behavioral Interventions and Supports. (2010). Implementation blueprint and self-assessment: Positive behavioral interventions and supports. 
PBIS is an evidence-based framework that uses a three-tiered approach to teach and reinforce appropriate behaviors for all students. PBIS programs are designed to replace a punishment-oriented system with a campus culture based on respect, open communication, and individual responsibility. The program's three tiers consist of the following:
Tier 1: The primary prevention tier is the largest of the three, focusing on interventions for 80 to 90 percent of students. In this tier, school staff uses a curriculum to teach social skills and expectations that all students and school personnel are expected to follow.
Tier 2: The secondary prevention level focuses on the 10 to 15 percent of students who have risk factors such as exposure to violence, a history of trauma, or the loss of a loved one that causes them to have a higher-than-normal risk of developing mental health issues. This tier focuses on developing skills and increasing protective factors for students and their families.
Tier 3: The tertiary prevention level focuses on the 1 to 5 percent of the student population who need an in-depth system of supports. This tier is focused on providing comprehensive, individualized interventions for students with the most severe, complex or chronic issues.
The Texas Education Agency recommends that school districts utilize PBIS to address student behavior, but Texas public schools are not currently required to use PBIS or other related approaches. Technical assistance to implement PBIS is available through the network of regional educational service centers and the Texas Behavior Support Initiative (TBSI). TBSI was designed to build capacity in Texas schools for the provision of positive behavioral interventions by assisting schools in developing and implementing a wide range of behavior strategies and prevention-based interventions.
In 2009, more than 800 schools were actively participating in the PBIS trainings facilitated by TBSI. Schools that have implemented PBIS have achieved a wide range favorable outcomes, including fewer disciplinary referrals, improved academic performance, and overall less use of physical restraints. When PBIS initiatives include an anti-bullying component, schools have seen a 55-69 percent drop in misbehavior. PBIS also serves as a key organizing framework for other interventions, such as the Social and Emotional Learning (SEL) approach described below. The cost to implement a school-wide PBIS program varies greatly between campuses but can be as low as roughly $10,000 per year, including compensation for staff, training, and the infrastructure and data resources needed to implement a PBIS program. However, there are many different variables that affect the cost of implementing PBIS, including the size of the school and its proximity to large urban centers.
SOCIAL AND EMOTIONAL LEARNING (SEL)
Social and Emotional Learning (SEL) is not a specific program, but a framework to help change the school's approach to working with students. Schools can choose from a variety of proven, effective SEL programs, but it is not necessary to hire additional staff to implement SEL — the primary costs of an SEL program are related staff training and student surveys. SEL programs can be implemented from preschool through high school and have the ability to improve student functioning in a number of areas.
The main goals of the SEL framework are to:
Help students work well and productively with others
Develop positive relationships
Cope with their emotions
Appropriately settle conflicts with consideration for others
Work more efficiently and effectively
Make decisions that are safe, ethical, and responsible.
Austin Independent School District (AISD) in central Texas has committed to incorporate SEL in its schools — one of the first districts in the country to make this commitment. AISD began implementing SEL in the 2013, with 73 of AISD's 129 schools implementing SEL in the first school year, reaching over half of the students enrolled. By the 2015-2016 school year, all 86,000 students in AISD's 129 different campuses were involved in the SEL program.
While there is currently no outcomes data available for SEL programs in Austin or elsewhere in Texas, national research on the effectiveness of SEL has found:
Improved academic performance (11 percent increase in achievement scores after SEL)
Greater motivation to learn and increased time studying at home
Reduced negative classroom behaviors (e.g. less noncompliance, aggression, and disruption)
Fewer disciplinary referrals
A reduction in reports of depression, anxiety and stress.
TRAUMA-INFORMED CARE (TIC)
While training in trauma-informed care is not required for educators or public school employees in Texas, many children in Texas public schools have experienced trauma in some form. Children who have experienced trauma often see the world as a threatening place, and this can lead to anxious behaviors that interfere with the child's ability to learn and interact socially with their peers. Creating a trauma-informed environment (in this case a school) requires that all staff understand how trauma affects an individual and incorporates that understanding of trauma into every aspect of how they educate and interact with students. An organization that is trauma-informed understands the vulnerabilities and triggers of trauma survivors and uses this understanding to ensure that staff do not re-traumatize individuals with the organization's approach to working with them. In a trauma-informed environment, children feel safe and accepted by their peers, even when they make mistakes.
Trauma-informed care is an overarching concept that can be implemented through the training of teachers and school personnel who interact with children. For more information on trauma-informed care, refer to the Texas Environment section.
RESTORATIVE JUSTICE FRAMEWORK
Restorative justice is a prevention-oriented framework that views bad behavior as more than an infraction of the school's rule by reframing the behavior as harming people, relationships, and the school community. A restorative justice framework can be applied to the entire school setting by focusing on the impact of harmful student behavior on others, and how that student and their school community can recover from the incident in a healthy way. Restorative justice can be implemented by using restorative circles in the classroom, wherein students can talk openly and honestly about student misbehavior and the effects it has on the classroom or entire school. A restorative circle allows the students to use community values and group expectations to collectively address the problem and make an individualized plan for restitution. While the circles take place in classrooms, the framework is intended to be used by the entire school so that the overall school community is improved by allowing school culture to be improved as a whole rather than narrowly focusing on changing individual behaviors. Similar to PBIS and SEL, the restorative justice framework offers schools a more proactive and strengths-based framework for managing behavior and promoting academic and social-emotional growth both inside and outside of the classroom.
Costs associated with implementing restorative justice can vary between schools, but one school in San Antonio implemented a restorative justice program at an annual cost of $16,000 — costs were mainly from additional staff training, consultations, and materials. This particular school in San Antonio experienced an 84 percent decrease in off-campus suspensions after switching from a "zero tolerance" policy to a restorative justice framework. Prior to implementing restorative justice to handle conflicts, this school had one of the highest rates of discipline in its district. In 2015, TEA began partnering with the Institute for Restorative Justice and Restorative Dialogue through the UT Austin School of Social Work to offer training for schools and district administrators across the state in restorative justice and restorative discipline. Statewide implementation of restorative justice in schools is still in its early stages, but restorative justice trainings are now being offered through 10 of the state's 20 regional educational service centers (ESCs).
EFFORTS TO REDUCE BULLYING
Texas legislators and a wide range of advocacy organizations now acknowledge the negative impact of bullying in schools and through the Internet. In one study of 250 middle school students, 90 percent of the students who were bullied experienced negative side effects as a result of the bullying. Examples of these side effects include anxiety, low grades, and social rejection.
The Texas Education Code requires each school district to have an anti-bullying policy that ensures educators enforce appropriate measures and methods to prevent bullying. TEA has developed a webpage to provide administrators, educators, parents, and students with resources about bullying. Research indicates that bullies and victims share many of the same risk factors and could benefit from interventions to improve their problem-solving skills, social interactions and interpersonal communication. Interventions to address bullying show moderate success; the most effective are intensive programs that avoid peer-based approaches and include parent meetings, firm discipline, and better playground supervision. Schoolwide efforts like PBIS and SEL also have the potential to reduce bullying by creating an environment of open communication and respect across the school campus.
NEXT SECTION: TEXAS DEPARTMENT OF HOUSING AND COMMUNITY AFFAIRS
DOWNLOAD A PDF OF THE FULL GUIDE