ORGANIZATIONAL CHARTS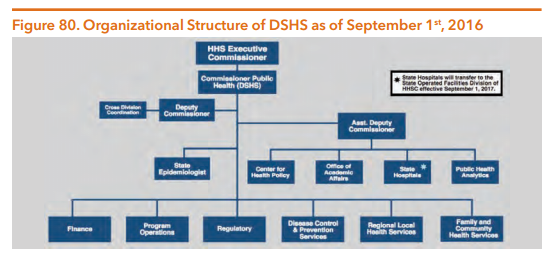 Source: Texas Health and Human Services Commission. (July 2016). Health and Human Services System Transition Plan. Page 21.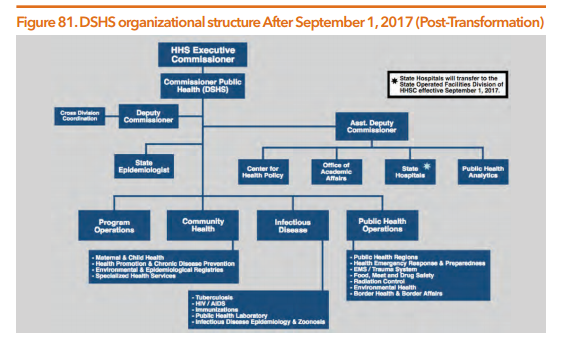 Source: Texas Health and Human Services Commission. (July 2016). Health and Human Services System Transition Plan. Page 21. 
Texas Department of State Health Services
Since 2003, the Texas Department of State Health Services (DSHS) has been the state mental health and substance use authority for Texas. Within DSHS, the Mental Health and Substance Abuse Services Division (MHSA) has overseen the public behavioral health service delivery system. DSHS provided behavioral health services (i.e. mental health and substance use services) to individuals with a wide range of mental health service needs. It is estimated that roughly 1 million adults in Texas are living with serious mental illness (SMI) and 519,368 Texas children are living with serious emotional disturbance (SED).

Important Note: Inpatient Mental Health Hospital Services
As a result of the HHS transformation directed by SB 200 (84th, Nelson/Price), DSHS, along with the entire HHS System has been undergoing massive reorganizations that are only partially complete as of the writing of this guide. Mental health and substance use community services transferred to HHSC on September 1st, 2016. However, the state owned and operated psychiatric hospitals and the state supported living centers do not transfer until September 1st, 2017. In order for this guide to provide information on mental health and substance use services as clearly and concisely as possible, information on state hospital services are included in this section and in the Behavioral Health Services tab under the HHS System section.
Inpatient Mental Health Hospital Services
Inpatient mental health services are provided by state, community, and private hospitals to children, adolescents, and adults experiencing a psychiatric crisis due to mental illness. Inpatient hospitalization may be necessary for a period of time so that individuals can be closely monitored to:
Provide accurate diagnosis and review of past diagnoses and treatment history;
Adjust, stabilize, discontinue, or begin new medications;
Provide intensive treatment during acute episodes during which a person's mental health worsens; and/or,
Assess or restore a person's mental competency to stand trial.
INTRODUCTION TO INPATIENT SERVICES AND THE ADMISSIONS PROCESS
As discussed earlier, DSHS designates LMHAs as responsible for achieving continuity of care in meeting a person's need for mental health services. Within this continuum of care, the state hospitals' primary purpose is to stabilize people by providing inpatient mental health treatment. Each state hospital has a utilization management agreement with a partnering LMHA that requires the LMHA to screen all individuals seeking mental health services to determine if inpatient psychiatric services are required. If the screening and assessment determine that there is a need for inpatient psychiatric services, the LMHA decides on the least restrictive treatment setting available, with the very restrictive setting of a state hospital considered the provider of last resort. When the LMHA has not screened and referred the individual for inpatient services, a hospital physician can determine if the person has an emergency psychiatric condition appropriate for admission to the state hospital. Additionally, a hospital physician can make a referral to the local LMHA if the person has less acute needs and only requires coordinated alternative services.
Chapter 411 of the Texas Administrative Code defines inpatient mental health treatment as residential care provided in a hospital that includes medical services, nursing services, social services, therapeutic activities, and any other psychological services ordered by the treating physician. Specific services include diagnostic interviews, structured therapeutic programming, collaboration with appropriate courts and law enforcement, suicide safety planning and discharge planning.
There are two types of inpatient commitments in which individuals are provided comprehensive inpatient mental health services: civil and forensic. Within these two types of commitments, an administrative decision is made as to whether an individual needs a maximum security or non-maximum security placement.
CIVIL COMMITMENTS
Civil commitments to state hospitals occur when an individual is involuntarily detained by a peace officer because he or she has symptoms of mental illness that present a substantial and imminent risk of serious harm to themselves or others. Voluntary civil commitments can also be initiated if the person needing help is actively seeking inpatient treatment.
Once a mental health warrant has been granted and the individual has been transported to a mental health facility, the initial civil commitment is only valid for a 48-hour emergency detention, in which time a doctor must visit with the individual (within 24 hours) and make an assessment about whether an order of protective custody (OPC) should be issued and the emergency detention extended. Within 72 hours of the initial detainment, a probable cause hearing must be held to determine whether the individual should stay at a mental health facility or in the community while he or she wait for their final mental health hearing. During the final mental health hearing, the court takes testimony from medical experts, the patient, and individuals in the patient's life (e.g. family, friends, coworkers). Following the final mental health hearing, emergency detentions can extend to 30-day orders of protective custody or 90-day court-ordered mental health service stays (which the court can then extend by three month increments if the treating physician has determined the individual is not stabilized and safe to return to the community). In a small number of cases in which minimal improvement is seen in the first 60 days of inpatient treatment, an individual's treating physician may request an extended civil mental health commit commitment for up to 12 months, but individuals subject to extended commitments are entitled to have their case heard before a jury rather than a judge.
FORENSIC COMMITMENTS
Individuals who are forensically committed to a state hospital in Texas go to either Rusk State Hospital or the Vernon Campus of North Texas State Hospital; this type of commitment happens for two reasons:
Individuals have been admitted to a hospital by judicial order because they have been determined Incompetent to Stand Trial (IST) and are in need of competency restoration services so that they can better consult with legal counsel and understand the charges against them, or
Individuals have been determined to be Not Guilty by Reason of Insanity (NGRI) and were ordered to a state hospital for a period of time not exceeding the maximum sentence length of the crime they committed.
MAXIMUM VS. NON-MAXIMUM SECURITY PLACEMENTS
Patients placed in maximum security commitments include individuals who are:
Civilly committed and determined by professionals to be manifestly dangerous to self and/or others, or
Charged with a violent felony offense involving an act, threat, or attempt of serious bodily injury.
All cases involving serious bodily injury, imminent threat of harm or use of a deadly weapon are sent to a maximum security unit (MSU) for an initial 30-day evaluation period. MSUs are more expensive to operate than traditional state hospital units and a statewide shortage of MSU beds has contributed to the increasing waitlists for forensic beds in state hospitals. Transitional programs for forensic commitments are available for individuals who transfer out of maximum security units after their treatment team and a judge determines that they are no longer manifestly dangerous to themselves or others. In regards to the method of bed appropriation in inpatient settings, only transitional forensic programs and forensic maximum security beds are designated as forensic beds and reserved for those populations; all other psychiatric beds are available for either civil or forensic patients on a first come, first serve basis.
Types of Inpatient Settings
STATE HOSPITALS
The State Hospital Services Division provides oversight of the nine state mental health hospitals and one psychiatric residential treatment facility for youth (the Waco Center for Youth) displayed in Figure 82 below. Each LMHA receives an allocation of state hospital resources to coordinate inpatient mental health services for residents of their specific state hospital service area. On average, Texas spends more per capita than comparable states on inpatient psychiatric services.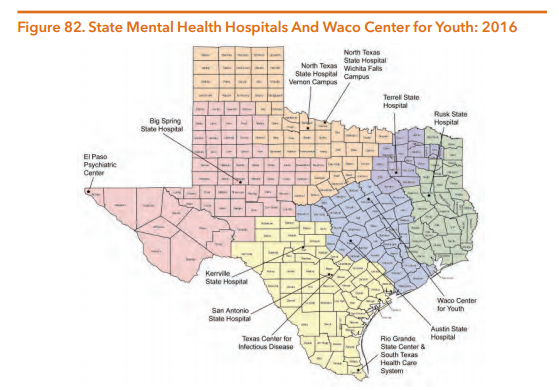 Source: Texas Department of State Health Services. (2016). Presentation to Select Committee on Mental Health: The Behavioral Health System [PowerPoint slides]. 
In FY 2015, the average daily census of all state hospitals in Texas was 2,238 individuals — 25 fewer individuals than in 2014.
Figure 83 below shows the total number of beds at each of the state-operated psychiatric hospital facilities in 2016; note that although this chart does not include community and private hospitals that contract with DSHS to provide inpatient treatment, those numbers can be found in Figure 56.
Figure 83 below shows the total inpatient bed capacity in Texas, including both state-operated and state-funded psychiatric beds. In FY 2016, there were a total of 2,995 state psychiatric beds across all bed types available for children, adolescents, and adults in Texas. Of the 2,463 state-operated psychiatric beds in 2015, 204 were allotted to provide acute services for children and adolescents and 116 beds were designated for individuals who no longer need state hospital inpatient care but do not have community alternatives available.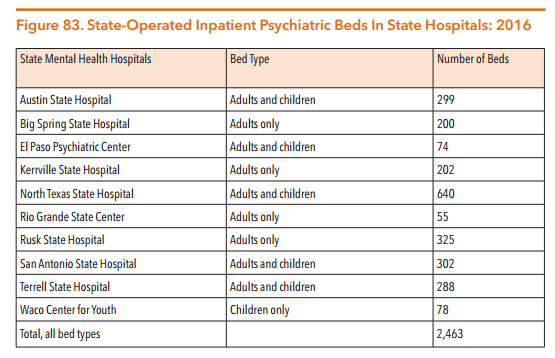 Source: Texas Legislative Budget Board. (April, 2016). State Hospitals: Mental Health Facilities in Texas, Legislative Primer;Texas Department of State Health Services. (2016, June 30). Personal Communication: State Mental Health Hospitals.
QUALITY OF CARE MEASURES
Figure 84 shows selected data from on common adult outcome measures for FY 2013-2015.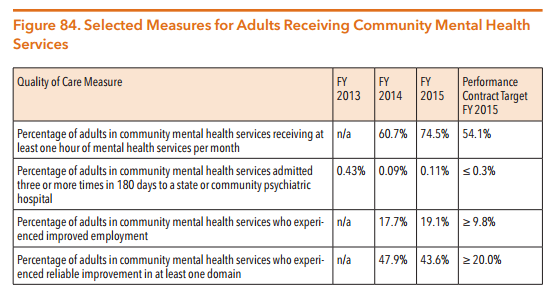 Note: Data for the first three items are from each year's fourth quarter, data for the last item is from the third and fourth quarters combined. Source: Texas Department of State Health Services. (2016). Behavioral health data book, FY 2015, fourth quarter [PowerPoint slides]. 
CRISIS SERVICES: UTILIZATION AND COSTS
The utilization and costs for crisis mental health services are included in Figure 85 below.


Note: Data are from each year's fourth quarter. Source: Texas Department of State Health Services. (2016). Behavioral health data book, FY 2015, fourth quarter [PowerPoint slides]. 
INPATIENT SERVICES AT STATE HOSPITALS: UTILIZATION AND COSTS
Over the past decade, the yearly average cost per patient served in state hospitals has almost doubled, from $11,912 in FY 2006 to $21,437 in FY 2015, an increase of $9,525 in the average cost per state hospital client (an 80 percent increase). As shows, Kerrville State Hospital (which only provides transitional forensic services) had both the highest average length of stay (839 days) and the highest cost per individual served of all Texas state hospitals in 2015 ($34,749 per client per year). also shows that despite there being a shortage of inpatient psychiatric beds, the average daily censuses of all hospitals are below their total funded capacities — this is partly because hospitals must retain some open bed capacity in case of emergencies, but also because staffing shortages and high turnover have made it difficult for many hospitals to fully utilize the number of beds they have. There has also not been any increase in the number of state-operated beds in recent years — only more contracted community hospital beds — and unmet hospital infrastructure repair and renovation needs have actually taken state contracted beds out of operation.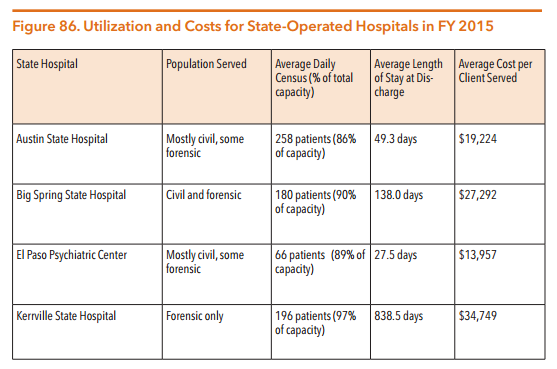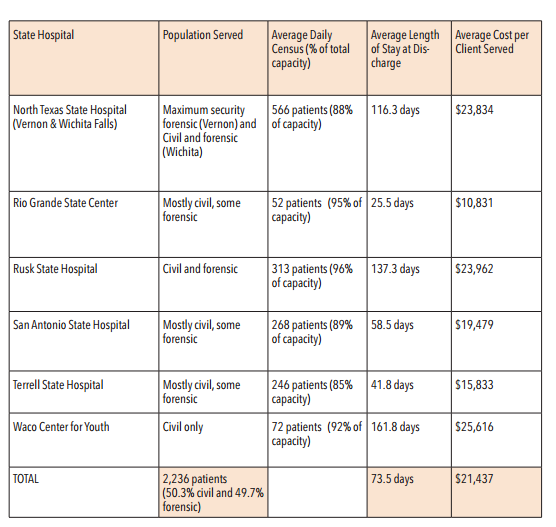 Data obtained from: Texas Legislative Budget Board. (April, 2016). State Hospitals: Mental Health Facilities in Texas, Legislative Primer. 
Whether due to an individual's especially severe mental health needs or their lack of access to community-based treatments and services, many individuals have trouble remaining in the community after discharging from a state hospital. As shows, individuals who cycle in and out of state hospitals account for a significant portion of the roughly 2,236 patients who are in state hospitals on any given day. Since inpatient hospitals serve as a safety net for many individuals who receive inadequate or no community-based treatments, the availability and quality of community-based services has a direct impact on inpatient hospital capacity.
NEXT SECTION: TEXAS DEPARTMENT OF AGING AND DISABILITY SERVICES
DOWNLOAD A PDF OF THE FULL GUIDE