A national paradigm shift is underway to transform behavioral health delivery systems. Policy decisions made at the federal level have significant impact on programs and services in Texas. Initiatives at the federal level are impacted by key federal agencies such as the Substance Abuse and Mental Health Services Administration (SAMHSA) and the Centers for Medicare and Medicaid Services (CMS). Both SAMHSA and CMS are increasingly focused on emphasizing recovery, wellness and self-directed care in behavioral health care. This broad change in treatment strategy offers a new approach to behavioral health that is designed to provide the right care at the right time and in the right setting.
The National Context section of this guide focuses on analyzing select bills and issues that are being discussed or implemented at the national level and have a direct impact on behavioral health systems and services in Texas.
SAMHSA
The Substance Abuse and Mental Health Services Administration (SAMHSA) is the agency within the U.S. Department of Health and Human Services charged with advancing behavioral health and reducing the impact of substance use and mental illness throughout the nation.
SAMSHA also retains the responsibility for administering a combination of competitive innovation mental health and substance use grants and block grants to states, as well as collecting data, conducting and publishing research, and running a variety of behavioral health programs and campaigns. For more information about SAMHSA's publications, grants and resources, visit www.samhsa.gov/home.com.
The Helping Families in Mental Health Crisis Act – H.R. 2646
Rep. Tim Murphy (R-Pa) and bill co-sponsor Rep. Eddie Bernice Johnson (D-Tx) introduced the Helping Families in Mental Health Crisis Act (H.R. 2646) to the House of Representatives in June 2016. (Note: The Helping Families in Mental Health Crisis Act is an updated version of H.R. 3717, a bill with the same name as H.R. 2646 and introduced by Rep. Murphy in December 2013). The legislation gained widespread bipartisan support in the House, culminating in 207 co-sponsors and a near unanimous passage of the bill (422-2) in July 2016. The future of the Helping Families in Mental Health Crisis Act is still uncertain and dependent on passage by the Senate, but the bill's strong bipartisan support in the House has given hope to Rep. Murphy (R-Pa) and the bill's other supporters.
H.R. 2646, as passed by the House, includes (but is not limited to) the following components:
Establishes a new position within SAMHSA (Assistant Secretary for Mental Health and Substance Use) to take over the duties of SAMHSA's Administrator
Requires grant recipients to use evidence-based practices
Mandates congressional oversight of all federal behavioral health grants
Creates an interdepartmental branch in SAMHSA that focuses on mental health
Increases alternatives for diverting individuals from institutionalized settings (e.g. diversion from jail, emergency rooms, psychiatric hospitals)
Increases psychiatric inpatient bed capacity
Expands crisis intervention training (CIT) for law enforcement personnel
Reduces HIPAA restrictions on the sharing of protected health information during crises
Opens Medicaid and Medicare incentive funds for peer supports and the meaningful use of electronic health records in behavioral health settings
Expands telemedicine services for rural and underserved populations
Promotes integrating mental health treatment with primary health care
Clarifies mental health parity laws and strengthens enforcement of parity
Increases funding for critical neuroscience research into the underlying causes of mental health and the efficacy of early intervention programs
While H.R. 2646 has received widespread support from some behavioral health organizations and professional groups, many civil rights and patient advocacy groups — for example, the American Civil Liberties Union (ACLU) and the American Association for People with Disabilities (AAPD) — have expressed concerns over certain parts of the bill. Some of those concerns include:
New requirements that may increase the number of involuntary outpatient commitments through the expanded use of "Assertive Outpatient Treatment" (AOT) programs
Reduced privacy protections for protected health information (PHI)
The dramatic restructuring of SAMHSA and the creation of the new Assistant Secretary for Mental Health and Substance Use Disorders position.
The Cassidy-Murphy Mental Health Reform Act of 2015 — S. 1945
On August 4, 2015, U.S. Senators Bill Cassidy (R-La) and Chris Murphy (D-Conn) introduced the Mental Health Reform Act of 2015. Since its introduction, the bill has gained widespread support from national organizations, including the National Council for Behavioral Health, the National Alliance on Mental Illness (NAMI), the American Psychiatric Association, and the American Psychological Association. As of October 1st, 2016, the Mental Health Reform Act of 2015 had been referred to the Committee on Health, Education, Labor and Pensions but had not had a hearing.
The Mental Health Reform Act of 2015 introduced by Senators Cassidy and Murphy is similar to Sen. Tim Murphy's Helping Families in Mental Health Crisis Act that passed in the House of Representatives. However, the Cassidy-Murphy bill includes several important differences:
Creates a new behavioral health grant program for early childhood intervention programs
Creates the National Mental Health Policy Laboratory – an entity designed to fund innovation grants, bring new and effective models of care to scale, and fund demonstration grants.
Reforms Medicaid and Medicare rules so that individuals can receive primary care and behavioral health services at the same location on the same day.
Partially repeals the IMD Exclusion within Medicaid by allowing enrollees age 22-64 to receive inpatient psychiatric care so long as it "would not lead to a net increase in federal funding"
Does not extend the Excellence in Mental Health Act demonstration program or expand the Health IT Meaningful Use program to behavioral health providers, nor provide additional grants specifically for mental health awareness training
The Mental Health Reform Act of 2016 — S. 2680
In March 2016, Senator Lamar Alexander (R-Tn) introduced a new federal mental health reform bill into the Senate — the Mental Health Reform Act of 2016. It is still too early to know the ultimate outcome of the proposed legislation, but in its current form, The Mental Health Reform Act of 2016 (S. 2680) is supported by NAMI and several other national organizations. The bill would make a number of improvements to behavioral health services at the national level, including but not limited to:
Addressing rising suicide rates by authorizing the National Suicide Prevention Lifeline program and extending the Garret Lee Smith Memorial Act to provide suicide prevention,
Increasing the mental health workforce by expanding grants for child psychiatry telehealth, creating a Minority Fellowship Program, and reauthorizing mental health training grants.
Strengthening enforcement of mental health parity by increasing requirements for health plan audits and expanding federal guidance on complying with parity laws.
Improving early intervention services by establishing more grants for early childhood mental health and requiring 5 percent of mental health block grants to fund early interventions.
Expanding integration of mental health services into primary healthcare by supporting integrated care trainings for providers and creating new grants for integrated services.
Updates on the Implementation of the Patient Protection and Affordable Care Act (ACA)
The Affordable Care Act (ACA) was passed in 2010 and dramatically reshaped the landscape of healthcare, health insurance, and behavioral health care in America. Among other provisions, the ACA requires that individuals maintain a minimum level of health insurance coverage or pay a penalty for noncompliance, known as the "individual mandate." The ACA also requires that health plans sold in individual and small group markets (both inside and outside of the Health Insurance Marketplace) offer a comprehensive package of items and services known as essential health benefits. In order to satisfy the essential health benefits requirements, a health plan must include items and services that address the 10 essential health benefit categories. One of those 10 essential benefits is "mental health and substance use disorder services", which includes a range of behavioral health treatment such as counseling and psychotherapy.
In addition to the individual mandate and essential health benefit requirements, the ACA also includes a number of provisions that significantly improve access to public and private behavioral health care services, including a requirement that health insurers provide coverage regardless of an individual's preexisting conditions, age, gender, disabilities, genetic information or health status. As of January 1, 2016, all of the ACA provisions applying to individual and group health insurance plans had been implemented (except for a specific excise tax on certain employee-sponsored health plans with high expenses).
Medicaid Expansion Under the ACA
As part of the ACA's goal to expand health insurance coverage for all Americans, the ACA initially required states to expand Medicaid coverage to adults and children up to 138 percent of the federal poverty level (FPL). In Texas, this expansion primarily would have covered low-income adults generally not eligible for Medicaid unless they were receiving social security income (SSI) as a result of a disability. However, many states pushed back against the mandated Medicaid expansion and the Supreme Court's ruling in the case ended up preventing the federal government from withholding Medicaid payments to states for not expanding Medicaid coverage. As a result of the Supreme Court's ruling, states were able to choose whether to expand their Medicaid program. If a state chose to expand coverage, the federal government paid 100 percent of the cost for the first three years starting in 2014 and no less than 90 percent of the cost in future years.
Because Congress wrote the ACA assuming that all U.S. citizens below 138 percent of FPL would be covered under the Medicaid expansion, the ACA does not provide tax credits for people below the poverty line (i.e., 100 percent of poverty). Because these individuals have incomes below the threshold to qualify for subsidies on the Health Insurance Marketplace but cannot afford private insurance and are not eligible for Medicaid (either because their income is too high or because they don't meet Medicaid's categorical eligibility requirements), they fall into a "coverage gap" and are likely to remain uninsured. Figure 9 gives a visual depiction of the gap in coverage created in states that chose to not expand Medicaid under the ACA.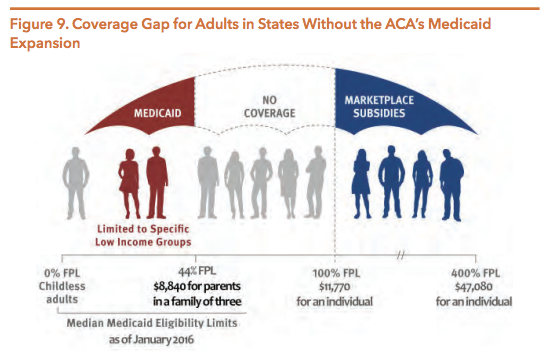 Source: Garfield, R. & Damico, A. (January 21, 2016). The Coverage Gap: Uninsured Poor Adults in States that Do Not Expand Medicaid – An Update. 
Following the release of the Supreme Court decision, Governor Rick Perry announced that Texas would not participate in the Medicaid expansion. This decision has effectively forfeited an estimated $6 billion in federal healthcare funds each year and created a gap in coverage for roughly 864,000 Texans.
As of July 2016, 25 states (plus the District of Columbia) have expanded their traditional Medicaid program for adults while six other states have adopted an alternative coverage plan using federal waivers. The remaining 19 states (including Texas) have not expanded coverage and are currently using temporary solutions such as 1115 Medicaid waivers to provide services for individuals who fall in the coverage gap depicted in Figure 9. Roughly 2.9 million individuals fall in this coverage gap nationwide, and more than a quarter of them (26 percent) live in Texas.
There have been increased concerns about the long-term viability of the ACA as some insurers have started to cut the number of plans they offer through state health insurance exchanges. In 2016, Aetna reported a $300 million loss in 2016 on its ACA plans nationwide. Aetna decided to join United Healthcare and Scott & White by leaving the health insurance exchanges in Texas and other states. Humana has also signaled it might withdraw from the ACA health insurance marketplaces soon, but other insurers with more experience serving low-income individuals through HMOs prior to the ACA (e.g. Centene and Molina) have done a better job of accurately estimating client risks, service utilization, and health care costs in order to keep their ACA plans profitable. Many insurers are choosing to rebound from underestimated costs and lower-than-expected revenues by increasing the prices of the health plans they offer on the exchange, with Blue Cross Blue Shield proposing rate hikes as high as 57-59 percent for some individual plans in Texas.
The number of Texans purchasing private health insurance plans through the Texas exchange rose from 1,205,174 individuals in 2015 to 1,306,208 in 2016. The uninsured rate in Texas has fallen from roughly 25 percent before the ACA was implemented to 16.8 percent in 2015, but Texas remains the state with the highest percentage of uninsured individuals — almost double the national average of 9.1 percent.
RULE CHANGES TO CMS MANAGED CARE
On April 25, 2016, the Centers for Medicare & Medicaid Services (CMS) finalized 1,425 pages of revision and updates that strengthen Medicaid managed care rules. The new rules will be slowly phased in beginning on July 1, 2017 and help clarify the federal government's increased expectations for state-run Medicaid managed care programs. The new managed care rules from CMS aim to improve the quality of managed care services by improving accountability and incentivizing innovation and program integrity. These new rules affect the approximately 72 million people enrolled in Medicaid managed care programs across the country — almost two thirds of all Medicaid enrollees. The rule changes address a wide range of issues in the Medicaid managed care system. Some of the more important rule changes related to behavioral health services under managed care include:
Establishing network adequacy standards that managed care programs must meet, particularly for specialty providers, so that enrollees have access to a full range of providers (including referral to out-of-network providers if other arrangements cannot be made)
Updating the IMD exclusion rules so that states can receive capitated federal matching funds for individuals age 18-64 who need short-term inpatient treatment "in lieu of" state plan services
Requiring managed care plans to comprehensively assess enrollees who need long-term services and supports (LTSS) and engage them in community-based, person-centered planning
Enabling managed care enrollees to continue receiving services during appeals of denials
Providing prospective and current enrollees with complete and easy-to-understand information detailing the providers and services available in different managed care plans
Requiring states to have a written quality strategy that includes performance measures, mechanisms for identifying enrollees with complex needs and a plan to reduce health disparities
Increasing requirements for data reporting, transparency and accountability (e.g. requiring screenings of all new managed care network providers and makes federal matching funds conditional on the timely and complete reporting of enrollee encounter data)
Establishing an 85 percent medical loss ratio (MLR) for reimbursement in order to create a sound rate-setting base that ensures reasonable and adequate payment for services.
While it is still too early to know the full effect of implementing these new rule changes to Medicaid managed care, proponents of the changes are confident the new rules will help to modernize managed care programs and align standards more closely with the practices of private health insurance sector.
Mental Health Parity and Addiction Equity Act (MHPAEA)
The Paul Wellstone and Pete Domenici Mental Health Parity and Addiction Equity Act of 2008 (MHPAEA) is considered one of the most impactful pieces of mental health legislation in recent decades. Enacted in 2008, MHPAEA was created to further expand the mental health parity requirements included in the 1996 Mental Health Parity Act. MHPAEA also added coverage requirements for substance use services. In addition to the restriction on annual or lifetime limits enacted under the 1996 law, MHPAEA requires insurers or health plans that offer mental health or substance use services to offer the benefits equally with other medical and surgical benefits covered under the plan, otherwise known as "parity". The law does not require plans to offer mental health or substance use disorder benefits.
MHPAEA did not require that behavioral health services be included in every group plan. However, the ACA required all marketplace plans to provide ten categories of Essential Health Benefits (EHB), which included mental health and substance use conditions beginning January 2014. Through the intersection of MHPAEA and the ACA, most health plans offer mental health and substance use disorder benefits, creating a new group of individuals in the U.S. who could gain access to treatment if needed.
Federal MHPAEA laws apply to:
Large employer-funded plans (with more than 51 insured employees)
Small employer-funded plans (with 50 or fewer employees, unless "grandfathered")
Individual market plans
Medicaid managed-care programs
Children's Health Insurance Program (CHIP)
Medicaid Alternative benefit plans and benchmark equivalent plans.
While MHPAEA does not directly apply to small group health plans, its requirements are applied indirectly in connection with the ACA's EHB requirements. Medicare, Medicaid, and CHIP are not group health plans or issuers of health insurance but are public health plans through which individuals obtain health coverage. Provisions of the Social Security Act that govern these plans require compliance with certain requirements of MHPAEA.
MHPAEA is meant to ensure that individuals with a mental health or substance use condition are able to receive benefits equal to the medical and surgical benefits covered by their individual health plan. The Departments of Labor, Health and Human Services, and Treasury released the Final MHPAEA rules on November 13, 2013. The rules provided details about the implementation of the law, such as:
Health plans must cover the treatment of mental health or substance use conditions at the same level as they cover other health care treatment. Again, MHPAEA does not require plans to cover mental health benefits.
States may choose to mandate specific mental health benefits, and MHPAEA requires that such benefits must be in parity with medical and surgical benefits in the same policy. Some states may have mental health and substance use parity requirements that are stricter than federal requirements.
The regulations distinguish between quantitative treatment limitations and non-quantitative treatment limitations. Quantitative treatment limitations are numerical, such as the number of visits a plan allows each year or the number of days covered for in-patient treatment. Non-quantitative treatment limitations (NQTLs) include but are not limited to step therapy and pre-authorization. Step therapy refers to the practice of using the most cost-effective medication and progressing to other more costly medications only if necessary. Preauthorization means that the health insurer or plan decides that a health care service, treatment plan, prescription drug or durable medical equipment is medically necessary.
A group health plan or coverage cannot impose an NQTL with respect to mental health or substance use conditions unless the same processes are comparable to, and applied no less stringently than, those process used in applying the limitation with respect to medical and surgical benefits. The final regulation eliminated an exception that allowed for different NQTLs "to the extent that recognized clinically appropriate standards of care may permit a difference".
The regulations provide that all plan standards that limit the scope or duration of benefits for services are subject to the non-quantitative treatment limitation parity requirements. This includes restrictions such as geographic limits, facility type limits, and network adequacy.
To learn more about MHPAEA's implementation in Texas, please refer to the Texas Environment section of this Guide.
Supplemental Security Income (SSI) and Social Security Disability Insurance (SSDI)
Supplemental Security Income (SSI) and Social Security Disability Insurance (SSDI) have close ties to health insurance for people with disabilities. SSI is administered by the Social Security Administration (SSA) and falls under Title 16 of the Social Security Act. SSI is for people with limited income who have a qualifying disability or are over 65. SSI is funded by general funds from the U.S. Treasury, not Social Security taxes. In most states, including Texas, individuals who receive SSI benefits are also immediately eligible for Medicaid under the same eligibility requirements. In 2014, the nation had 9,259,225 SSI beneficiaries and Texas had 665,989 beneficiaries. The monthly maximum amount for SSI in 2016 are $733 for an eligible individual and $1,100 for an eligible individual with an eligible spouse.
SSDI is also administered by SSA and falls under Title 2 of the Social Security Act. SSDI is for people who have a disability, have worked in a job covered by Social Security, and have earned enough credits in the Social Security program. In December 2014, there were 10,261,268 individuals receiving SSDI as workers with a disability, widow(er)s of a worker with a disability, or adults with disabilities. 87 percent of the total receiving SSDI were workers with a disability, 10 percent were adults with a disability, and 2 percent with widow(er)s with a disability. Of individuals receiving SSDI benefits for a mental disorder at a national level in December 2014, 14.7 percent were men and 19.7 percent were women. In 2014, there were 617,848 SSDI recipients in Texas accounting for 3.7 percent of the total state population.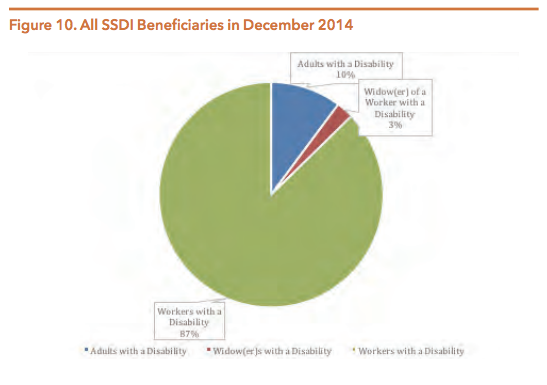 Source: Social Security – Office of Retirement and Disability Policy. (2016). Annual Statistical Report on the Social Security Disability Insurance Program, 2014. 
Most people receiving SSDI benefits have not been able to work due to their disability for at least one year. SSDI beneficiaries have to undergo a two-year waiting period before they can receive Medicare benefits. During those first two years of SSDI enrollment, SSDI beneficiaries may be able to obtain health insurance through their former employer or Medicaid, and some will be uninsured during that waiting period.
Some people are approved to receive SSDI and SSI concurrently. This occurs when an individual receives a low SSDI payment, possibly due to not working in recent years or making little while working. When the SSDI payment falls below the federal benefit rate, SSI can be used to make up the difference.
Figure 11. below details the major difference between the two programs.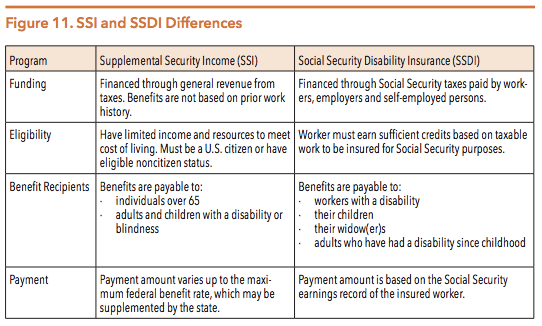 Source: The United States Social Security Administration. (2016). Federal Benefit Rates, Total Annual Payments, and Total Recipients. The United States Social Security Administration. (2015). Disability Benefits. 
NEXT SECTION: PUBLIC BEHAVIORAL HEALTH SERVICES IN TEXAS
DOWNLOAD A PDF OF THE FULL GUIDE